MONALISA CHINDA DRAGS HUSBAND TO POLICE STATION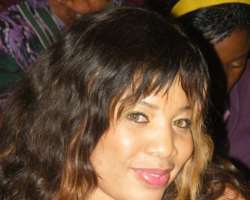 Today in Lagos,Nigeria, star actress and newly endorsed GLO ambassador,Monalisa Chinda dragged her estranged husband,Segun Dejo-Richard to the Anthony police station.Dejo who has been telling all who cares to listen that he would do anything to settle whatever rift he has with his wife amicably, was jolted with shock.
Monalisa had gone to make formal report at the police station. She wanted to get her Nissan 2008 car from the house. She bought the car shortly after she was paid some money by Globacom, a leading telecom company in Nigeria. She was accompanied to the station by some family members.
No one in their wildest imagination would believe that all these would be happening so soon for actress, Monalisa Chinda and her Husband Segun Dejo Richard. Those who are close to them would tell you that they have been best of friends.
In several interviews published in the media, the actress affirmed that nothing in this world could make her trade her husband for anything. She said if she returns to this world, she would come back and marry Segun again.
We reported some days back that she has already slammed her husband with a divource notice.She wrote him through her lawyer,Mr.Festus Keyamo.
While discussing with some colleagues at Night Shift Coliseum, Lagos, this afternoon, many of them expressed rude shock because theirs was like a role model celebrity marriage. Many people wanted to be like them.
A mutual friend of the family disclosed that agreed things are not really moving on too well with Segun and his purse his lean at the moment but is it enough reasons for Monalisa to leave her husband?Afterall, when he was rolling in money, he did not abadon Monalisa so why is she doing all this?
Another question here is that Monalisa could have joined the league of go-go actresses who believe so much in just enjoying life without looking back or thinking of the future."Monalisa is close to two Vivian Ejike and Emem Isong who are single mothers.I think all she wanted to do is to be free like them" said another person.
I was shocked today when i saw someone weeping over a failed marriage in the movie industry. A female journalist who got so emotional about the whole thing started shedding tears.From what we gathered today, Segun is doing all to get his wife back. He thinks she has been listening to negative counsel.Now that sh has been made a super millionaire by glo endorsement deal, she decided to pull out of the wedding.
nollywoodgists.com gathered that Mr.Kool, a musician and brother-in-law, once slapped Monalisa over an argument.As if that was not enough, Monalisa's younger sister also slapped Segun on the day they were doing their baby's naming christening last year. Isn't that sad enough!
At this point, many people are sceptical over whether or not Glo would not suspend her contract with them because of the negative publicity.In case you don't know, Mercy Johnson allegedly lost the glo contract because of scandal.One reason she would never forgive Halima!!!
PLEA:MONALISA PLEASE THIS IS THE TIME TO LOVE YOUR HUSBAND MORE...LOVE CONQUERS ALL THINGS...WE LOVE YOU.
-niyi tabiti