James Murdoch's Make Or Break Day In Parliament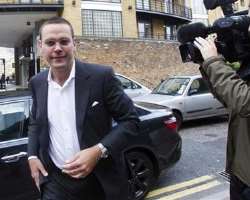 NEWS INTERNATIONAL CHAIRMAN JAMES MURDOCH ARRIVES AT NEWS INTERNATIONAL IN LONDON JULY 12, 2011.
James Murdoch is about to face his day of reckoning.
The News Corp deputy chief operating officer will appear before a special committee of Britain's parliament on Thursday for a second round of questioning about a phone-hacking scandal at his company's now-defunct News of the World tabloid.
According to company insiders, Murdoch family confidantes, analysts and industry observers, the committee's success in pinning the widespread corruption that took place at News Corp's British unit News International on James -- or how deftly James deflects responsibility -- will ultimately determine if he stays at News Corp as the likely successor to his father, Rupert.
"Thursday is a make or break day for James," said a News Corp insider and Murdoch family confidant who asked to remain anonymous. "The situation is much more dire than last time around."
To put the gravity of that comment into perspective, consider reports in recent weeks detailing how Elizabeth Murdoch, eldest of Rupert's three children from his second marriage, pushed for James's ouster from the company during preparations for his first appearance before parliament in July; and how Rupert seriously pondered making the move.
Those stories confirmed a Reuters report from early August citing News Corp insiders as saying they were preparing for the possibility that James may need to "take a breather" from the company as a result of the damage to his credibility caused by the scandal.
A spokeswoman for News Corp declined to comment on how James Murdoch planned to handle Thursday's appearance or speculation about his future.
Since July, the situation hasn't improved for James. In fact, it has grown worse. His initial testimony was immediately contradicted by Colin Myler and Tom Crone, the former editor and former head of legal for the News of the World. Inquiries into other News Corp divisions are taking place in the United States. Moreover, a reporter for The Sun was recently arrested on suspicion of bribing police, suggesting that questionable practices spread beyond a lone "rogue" News of the World reporter to at least one other paper in the News Corp empire.
James would not have been re-elected to News Corp's board at the company's annual shareholder meeting in late October had it not been for the Murdoch family's 40 percent voting control. Strip out the family's votes and James's re-election would have been rejected by a more than 3 to 1 margin, suggesting severe disenchantment with his handling of the crisis among News Corp's independent shareholders.
On Monday, News International, the UK newspaper arm of News Corp, admitted its staff had ordered surveillance of two lawyers representing victims suing the media group over phone-hacking, and on Tuesday a private investigator told the BBC he had been paid by the News of the World to spy on more than 90 people, including Britain's Prince William and the parents of "Harry Potter" actor Daniel Radcliffe.
Harriet Harman, deputy leader of Britain's opposition Labour Party, said that this week's revelations "take the shame of the phone hacking scandal to a new low. Acts intended to intimidate the legal profession are a fundamental attack on the rule of law."
Tom Watson, the most relentless questioner on the committee, told Reuters: "I would imagine that James Murdoch will want to clear this up with the committee. He said in September 2010 that he was getting on top of the matter and if it transpires that the investigators were hired in 2011 then clearly something is amiss with the management."
MAINTAINING MORAL AUTHORITY
The key for James is to maintain both his composure and moral authority during Thursday's testimony, sources close to the company said. The committee will be looking for evidence to prove that it was misled by James during his last appearance. In the absence of any hard proof, however, all the committee has to go on is conflicting accounts of when James was made aware that phone hacking involved more than one journalist.
News Corp had for years argued that phone hacking was solely limited to royal correspondent Clive Goodman and the private investigator Glenn Mulcaire, who both went to jail in 2007 for the crime. But in 2008, James Murdoch accepted the advice of lawyers and a News of the World editor to pay out roughly 700,000 pounds to soccer union boss Gordon Taylor, a figure that dwarfed all previous settlements paid by the newspaper.
Writing to the committee in August, James explained why he approved the large payment to Taylor. He said that having agreed to this course of action he did not believe there was any need for a further investigation. But Myler and Crone contradicted that assertion, saying that they had explained to Murdoch that the payment to Taylor was necessitated by the fact that Taylor had evidence appearing to prove that other journalist besides Goodman had been involved in phone hacking.
Using evidence obtained through emails, meeting notes, and legal briefing papers, the committee has established that several senior News of the World executives knew the problem was more widespread than acknowledged. Indeed, repeated and insistent denials that the company was unaware of a wider problem have been found to be false. Legal notes circulated between an external counsel and then head of legal affairs Crone in 2008 referred to "a culture of illegal information access."
The committee has also exposed News International to be a company that has paid huge sums of money to staff who had gone to jail and to a hacking victim if they agreed to keep the matter confidential. This prompted suggestions that the company was engaged in a huge corporate cover up. Repeated statements by executives that they simply did not know or could not remember what happened have done nothing to correct that impression.
"We didn't believe them then and we don't believe them now," committee member Paul Farrelly told Reuters.
What the committee has not yet proven, however, is when precisely James learned about the scale of the problem. In essence, Thursday's questioning is an attempt by the committee to figure out if they were misled by the Murdochs or Myler, Crone and other News International executives.
"James Murdoch will be asked what he knew and when about hacking," Farrelly said. "Where there are contradictions, there is plenty of other ground from our enquiries and the documents to come to some very hard hitting conclusions."
Therefore, it is essential that James be able to put some distance between himself and the other executives and prove that if the committee was indeed misled it was by them and not him. Although few believe James can emerge from Thursday's proceedings unscathed, some of his supporters are hoping he'll use his appearance as an opportunity to be as open and honest as he can be.
EMBARRASSMENT IN LIEU OF EVIDENCE
The doggedness of the committee in pursuing James has left the impression that the 38-year-old failed to ask the right questions of those around him. And though the committee is powerless to hold James accountable on its own, numerous sources said its aim is to make him seem so negligent a steward of the company that it becomes impossible for him to ever succeed Rupert as CEO of the $30 billion News Corp empire.
"Given that this has led to the closure of the News of the World and has cost News International handsomely, he'll be asked if he didn't know the full extent, why didn't he when he was the chief executive?" said Farrelly.
Noting that Rupert is immune to outside and even familial pressure until it starts affecting the company's business prospects, the News Corp insider said the committee's goal "seems to be to make James seem so bad to a powerful intermediary figure like Carey or Devoe that one of them tells Rupert that James has to go for the good of the business."
So far, Carey has remained steadfast in his support of James, giving him another vote of confidence on News Corp's earnings call last week, which also highlighted the company's continued strong financial performance. Among others inside the company, however, there is a recognition of the building pressure for someone to take wider responsibility for the scandal and the lack of other candidates besides James to do so since it is clear that Rupert himself won't be the scapegoat.
Claire Enders, a media consultant who very publicly led the opposition in derailing News Corp's deal to take full control of satellite broadcaster BSkyB over the summer, thinks that James should be held responsible for the scandal but likely won't face any real consequences from it.
"He was the chief executive, he should have known what was going on," Enders said. "I think he will get a slap on the wrist by the committee. He can be criticized for his lack of attention and lack of interest and for the fact that alarm bells didn't ring."
Enders said James's performance will play into his chances of being re-elected as BSkyB chairman during its annual general meeting at the end of November. Just as James was re-elected to the News Corp board, Enders fully expects him to be re-elected at BSkyB as well. The company could even benefit since he has had to rein in his more aggressive tendencies in recent months after years of troubling regulators by criticizing rivals and any politician seen to oppose his company.
For his part, James appears to be going about his business as usual. According to a source close to James, he is gradually continuing his move to the U.S. but it is going more slowly than previously planned. While he's spending more time in the U.S. and will continue to do so in the new year, his family plans to hold off on relocating until the summer, this source said.
REUTERS