ACE MUSIC PRODUCER,COBHAMS ASUQUO OPENS UP ABOUT MARRIED LIFE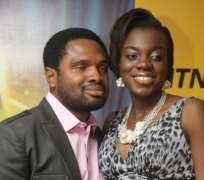 Cobhams Asuquo,the visually-impaired genius is arguably one of the best music producers in the country.
The award winning producer works have given birth to different careers such as Asa and Bez through his Cobhams Asuquo Music Production (CAMP) outfit.
In a recent interview,Cobhams opens up about married life.
I have to say, my wife is the most beautiful, the most understanding and she is also completely special, and I think that's what happens when you marry right. I don't know any man has the wisdom to marry right, which is why it is important that God is involved in the whole process. I went into marriage taking certain things into consideration. Number one; there is no marriage built on the foundation of God that will not make it through, and number two; it is important that you marry your friend. Number three; it is important that you marry for the right reasons and beauty is not exactly one of them, it may be a reason but it is not top priority. And this has nothing with me not being able to see. And trust me, because I have met and I've known beautiful women in my life.
Trying to marry because of beauty is completely vain. So I think I'm in marriage for the right reasons and I absolutely love it. My wife inspires me; she's also come to join our business. She used to work with one of the foremost telecommunications companies in Nigeria and she just resigned her position in the business just to join me in the business and I think it is a sacrifice that doesn't come cheap. You don't find that these days everywhere. So as far as timing or managing my time is concerned; I know when to work and I know when not to. No matter how busy it is, if get past a certain time; I'm out of that studio, because for me, family is important. I have a role to play as a man and also head of my family and I have to inspire my kids, to lead them in the right direction, to teach them and to be there for my wife and make her feel special. And not to say I do have children. Laughs