RETURN TO YOUR FIRST LOVE, REV. EZEKIEL URGES PASTORS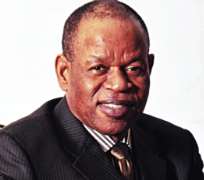 •Ezekiel
General Overseer of Christian Pentecostal Mission International, Rev. Obiora Ezekiel, has urged all men of God to embrace spiritual transformation.
Addressing journalists at Back To Bible Conference, which held at the church's headquarters in Lagos on the theme, Glorious Divine Nature Part 3, Rev. Ezekiel warned pastors against misinterpreting the Bible. 'These pastors are no more preaching the word as a spiritual exercise which Jesus Christ preached, but are only interested in enriching their packets through miracles. These pastors should have a conscience void of offence towards God and man.'
He admonished them to stop acrobatic display on the pulpit but should withstand persecution when it comes and not deny Christ. 'Many ministers have big names, yet no fruits of righteousness in them rather, anger, malice's, envy, jealousy, backbiting and fighting, beating of their wives, which they call holy fight, still exist among them.
'There are many things we don't know and we don't want to know, but if we are seeking to know the truth God will never hide it from us. It is not a question of your qualification, for God's own knowledge is different from our knowledge. When we know God's truth we will not have problem,' he stated.
Citing John 1: 35-39, Ezekiel stated that each verse has a divine purpose, which is in three places: stand, seat and walk.
He therefore called on them to return to their calling and live by it adding that the Bible should be a walking mirror for everyone.