WHY I TRAVELLED TO UNITED STATES AND CANADA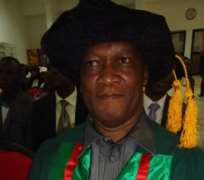 •Egboka
Since his days as a pioneer lecturer with the university, in the early 80s, Prof. Boniface Chukwukadibia Egboka, Vice-Chancellor, Nnamdi Azikiwe University (NAU), Awka, has always been a man of vision. Reveling in his recent celebration of two years in office as well as the fruitful outcome of his visits to America and Canada, he spoke to Daily Sun on his achievements in office, projections for the future as well as the university's decision to study Chinese language. Excerpts:
Reflections on the past two years
In the beginning, we promised to unite all colleagues and form a common front towards realizing the 14- point agenda of the University Governing Council which cuts across God centered leadership, sustenance of peace and stable academic calendar, security of lives and properties, ensuring financial discipline and transparency, promotion of the welfare of staff and students, making UNIZIK information technology driven and residential. All these are geared towards making UNIZIK one of the 1000 foremost world-class universities.
Looking back in the last two years we can say that we've not lost focus. Rather, we are on track in achieving positive-oriented results. So far, the administration has superintended the full accreditation of 64 academic programmes of the university and interim accreditation of four new programmes by the National Universities Commission. Seven professional bodies have also granted successful accreditation to the programmes of our university. On infrastructural development, we have completed various projects and aggressively commenced actions on some newly approved ones.
On staff and students welfare, we pay salaries on or before 25th of every month while annual appraisals of staff for promotion are done promptly and those who merit promotion are promoted. The administration has also solved the overstay problem of many students, ensured free-and-fair elections for the Students Union Government, provided admission for physically-challenged candidates and job opportunities to physically-challenged graduates of the university. Special ramps were also constructed at the hostels and buildings to enable people using wheelchairs to have easy access to buildings. We adopt the idea of 'student first philosophy' in all our conducts of affairs in the university.
Recent rumour over increase in school fees
Federal government institutions are not allowed to charge fees, what we have is just money to take care of some basic needs like health service, security, energy, water supply and infrastructural support, which are, of course, subsidized heavily. We did not increase schools fees in the university. Unfortunately, we don't know who wrongly informed the students and we have gone a long way to create the right impression over the issue. It is only the first year students that are requested to pay a bit higher than other students which is traditional because of acceptance fee and others like accreditation which are paid only once.
A little money was also added for hostel accommodation so as to maintain the quality standard of the hostels and of course you know that hostel accommodation is optional. The hostel lacked water system before and knowing that this posed serious health implications, we decided to sink two giant boreholes at the depth of about 800 feet below ground surface. We don't want to present second best in our students either to the professional bodies or the National Universities Commission (NUC) because the university is among the best and we want it to continue in that best tradition.
Outcome of my recent overseas trip
I was in Toronto, Waterloo, Regina all in Canada. At the University of Waterloo, I met with the president of the university, the Vice Chancellor. We've been working on exchange programmes and we were able to conclude the linkage collaboration and signed a Memorandum of Understanding (MoU) between UNIZIK Nigeria and University of Waterloo Canada.
This involves students and staff exchanges, joint research schemes and trainings. I was also in University of Regina Saskatchewan. Waterloo is in the province of Ontario while Regina is three hours flight from Waterloo. I had discussions with the faculties and was able to come together and knocked out another MOU now signed for joint collaborations. At Waterloo, we have joint research programmes in water resources, water supply and management, surface water and ground water quantity and quality. We also have another joint research programmes in energy and environment and issues of sustainability of the environment.
I was also in Houston Texas in America to attend Alumni convention of this University in America. The convention was a gathering of many UNIZIK graduates now in Diaspora. We had robust discussions with the Alumni body both as a group and on individual capabilities and they appreciated our visit and promised to assist the University.
They said they will take off with the building of an Alumni liaison office in the University. Right now, Nnamdi Azikiwe University is collaborating with 15 other Universities spread across the United States, United Kingdom, China, India, Japan, Scandinavian countries and many others. In Nigeria here we also have collaborations with other bodies and institutions like National Water Resources Institute, Kaduna, on water resources, with Juhel Pharmaceuticals on drug production and pharmaceuticals; we also have the same relationship with NAFDAC. Our faculty of pharmacy also has linkage with the University of Ibadan and recently they attracted financial support from the Ford Foundation.
Our collaboration with Chinese universities
Nnamdi Azikiwe University has a strong linkage with Beijing and Xiamen University in China. I just finished discussion with four new Chinese lecturers who arrived here. We now have three Chinese classrooms:- one for the regular students, another for the UNIZIK high school and the third one for Oko Polytechnic and we have Chinese lecturers teaching Chinese languages and History in those classes. Presently, seven Chinese lecturers are working in this University while six of our lecturers are also studying in China under sponsorship by the Chinese Government while we have been offering certificate and diploma programmes in Chinese language since the past four years.
The Chinese Government recently approved this University to examine Chinese language potential candidates in their HSK language. It is an international certificate which people from all over the world are examined in writing and in speaking of Chinese languages and UNIZIK happens to be the first to get that approval in this part of the world. We know the potency of the Chinese people worldwide that's why we are willing to learn from them and they are also eager to learn from us. Our lecturers also teach Igbo language and culture in Beijing Xiamen University to the Chinese, the same way they teach our people here. It's a quid pro.
Expectations for our coming convocation
This year's convocation ceremony will be a great one and we are working very hard to ensure its success. Starting on 16th November with cultural displays to showcase our diverse cultural heritage. November 16 is the birthday of the great Nationalist, Nnamdi Azikiwe whose name was immortalized in our University. Zik was a man of tradition and culture and last year we had a lecture in his honor on the same day but this year, we decided to make it purely a day of tradition and culture.
The various cultures and traditions of Nigeria with emphasis in Igbo and Efik predominating in dressing, dancing, poetry, foods, proverbs, wrestling, exhibitions, artworks etc. Faculties and departments shall showcase what they have and the best will emerge winners. On the next day, Prof Julius Okojie, the Executive Secretary of the National Universities Commission will be the guest lecturer on the topic 'the growth and development of Nigeria Universities.' The third day will be convocation for undergraduates and commissioning of projects while the grand finale will be a day for our postgraduate degree awards and honorary degree recipients.
Three distinguished Nigerians, Dr Chukwuemeka Ezeife, the man that facilitated the transfer of the University from state owned to a federal university as well as Oko polytechnic to a federal polytechnic, Dr Ifeanyi Okoye the executive director, Juhel pharmaceuticals, the man who pioneered and built our faculty of pharmaceutical sciences and also convinced five of his friends from Agulu to also raise some buildings and laboratories as well as convinced his community to donate lands. The third person we are going to honuor is Chief Mrs. Stella Okoli, the Managing Director of Emzor Pharmaceuticals. Through her Chike Okoli Centre for Entrepreneurial Studies in memory of her late son, she has done a lot for the university.