Nigeria Subsidy Debate Holds Up Q4 Gasoline Imports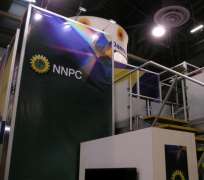 Nigeria's gasoline import allocations for the fourth quarter are being delayed as parliament debates the removal of subsidies and as gasoline held in offshore floating storage surges to record levels, trade sources said on Monday.
Nigeria is Africa's top oil exporter but insufficient refining capacity means it relies on fuel imports, mostly gasoline, for up to 85 percent of its oil product needs.
About half of the country's yearly gasoline needs are imported through swap exchanges arranged by a subsidiary of state-run Nigerian National Petroleum Corporation (NNPC), according to traders. The other half is organised independently through deals with Nigeria-based distributors.
The parliamentary debate about subsidies and an excess supply of gasoline stored offshore have put a spanner in the allocation talks for this quarter, traders said, which could drag on into next year.
"These allocations should have been out by October or mid-October but they're not out still," one trader said. "There are two key things being looked at - the deregulation talks and the oversupply currently in the market."
Nigerian President Goodluck Jonathan has backed a plan to remove costly gasoline import subsidies, currently running at about 30 percent. This could prove sensitive in a country where a large section of the population survive on less than $2 a day.
Finance Minister and Coordinator of the economy, Ngozi Okonjo-Iweala, has said fuel subsidies will cost Nigeria at least 1.2 trillion naira ($7.7 billion) this year.
The former World Bank official believes subsidies are a wasteful use of funds, as they are mainly paid to importers of refined products and do not reduce gasoline costs at the pump.
The central bank governor and other key officials have also said a necessary step in reforming the downstream oil sector and expanding sub-Saharan Africa's second-largest economy will involve weaning Nigerians off hefty fuel subsidies, but the negotiations could drag on for months.
The debate is expected to prove controversial as many Nigerians regard cheap fuel as the only benefit they get from living in an oil-rich nation. Proposed fuel price increases in the past led to nationwide strikes.
SUPPLYING GASOLINE
Nigeria obtains gasoline via two routes. The NNPC has swap agreements with providers to exchange crude oil for refined fuel products, and through the Petroleum Products Pricing Regulatory Agency (PPPRA) it awards allocations to different suppliers.
Nigeria's gasoline consumption has increased over recent years amid steady economic growth, with gross domestic product expected to rise by about 7 percent this year.
Monthly consumption of the motor fuel is around one million tonnes, a trader said.
NNPC data suggests Nigeria imported in excess of five million tonnes of premium motor spirit or petrol last year, although traders said that does not take into account the PPPRA allocations.
An excess of gasoline in floating storage offshore has tempered demand from the PPPRA this quarter, according to traders.
One trader estimated there is around 1.3 million tonnes of gasoline floating off the coast of Nigeria, or some 45 mid-range cargo ships carrying roughly 30,000 tonnes each. This is well in excess of the almost one million tonnes held at the previous peak in May.
"We are seeing the usual delays in Nigeria - there is enough product offshore to chew through," said a gasoline broker.
The over-supply could provide rich pickings for pirates in the Gulf of Guinea. An oil products tanker was hijacked a week ago in the latest in a string of attacks in the emerging trading hub.
The removal of the subsidy could also mean a consolidation of the government's several oil agencies into one overseeing organisation, a trader said.
Earlier this year, the country's PPPRA censured Noble Group for shipping gasoline to tankers near Lagos Bay for floating storage, which was then unloaded away from the country's official tenders.
REUTERS.