ECOWAS COMMISSION, 702 PRODUCTIONS LTD PLAN BIG FOR MISS ECOWAS 2009.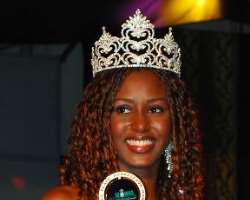 In its quest to build a peaceful co-existence and harmonious relationship amongst the fifteen (15) Economic Community Of West African States (ECOWAS) member nation and Africa as a whole, the ECOWAS Commission in conjunction with 702 Productions is leaving no stone unturned to produce a world-class event in this year's Miss ECOWAS Peace Pageant slated for the garden city, Portharcourt, Rivers State on Saturday 14, November, 2009.
The last year's edition of the Pageant which took place on December 20, 2008 in Port-Harcourt was proudly supported by the Rivers State Government. It will be recalled that the event had in attendance Joe Thomas, the United State R n B sensation, Slim Buster & Dancers (Ghana), J'Town, Lady Iby, Mama G, Duncan Mighty (Nigeria) and other artistes within the country while it equally had the crème-de-le-crème of the society which includes His Excellency, Dr. Mohamed IBN Chambas, the President of ECOWAS, Hon. Rotimi Amaechi, Governor, Rivers State with his wife, captains of industries, members of the diplomatic corps and a host of celebrities.
Activities and other arrangement are in top gear to ensure that this year's Miss ECOWAS Peace Pageant reach the peak of production in terms of content, message, package and mileage for the sponsors.
Africa over the years is perceived to be dark and poor and it has recorded a lot of crisis ranging from war, squalor, poverty, hunger, diseases, corruption and bad governance. Historically, the West-Africa sub-region was a major entrance into Africa by Europeans and Americans. The countries in West Africa have not been absolved of the challenges faced by other African countries. Hence, the Peace Pageant initiative from the ECOWAS Commission is one of the key steps to right the wrong over the years, build peace amongst the people in the face of challenges and put the region in good light on world map.
Last year's winner was Miss Fatoumata Diallo, a 22 year old former Miss Senegal. She was born in Dakar on the 28th October,1986. She speaks French and English. Fatoumata is a Senegalese by nationality and Fulani by tribe. she is 5'10in. tall and from a family of five (5) children. She is a student at the University Cheikh Auta Diop – Ecole Superieure Polytechnique, studying Marketing and International Trading. The current Miss ECOWAS is also a model who has participated in many fashion shows in Dakar and more importantly moved around West-African states to further preach peace agenda and support other ECOWAS Peace initiatives that tends to build the culture of peaceful co-existence. Fatoumata expressed her mind ''it has been a wonderful experience in the last one year, both as a Senegalese and an ambassador of the commission. We have been able to communicate and preach the message of peace around locality within Senegal and across West-African sector. My community and my country have benefitted from my tenure from the peace question, image building and practical intervention in people's lives. I want to thank my parents, 702 productions, ECOWAS Commission and specially the Rivers State Governor, Hon. Rotimi Amaechi and the good people of Rivers State for hosting the event and giving us a warm and spectacular reception. I know that this year's event is going to be bigger and better in terms of quality and participation given the state of preparation. 'Merci Boqou' to you all across the West-Africa region." the beautiful Ambassador submitted.
The Peace Pageant, which will see the crowning of an ECOWAS PEACE AMBASSADOR, is the biggest and the most influential pageant event in Africa. This event is an annual event at which a beauty queen, representing one of the 15 West African countries is crowned as a Peace Ambassador for the sub-region for an active period of one year beginning from the day of crowning.
Miss ECOWAS Peace Pageant is an initiative of the ECOWAS Commission which is being produced by a Ghana based outfit, 702 Productions Limited with the full support of Rivers State Government of Nigeria.
This is in recognition of the efforts of the current Government ably led by Hon. Rotimi Amaechi of the Rivers State to consolidate peace and accelerate the pace of development not only in Rivers State but in Niger-Delta area as a whole.
The objectives of the Pageant include building platforms aimed at communicating and building the culture of peace and development in the sub-region, creating brand awareness, brand recognition and recall for the Miss ECOWAS 2009 (regionally, nationally and internationally), and ultimately to use it to launder Rivers State's image and sell its tourism and business potentials.
The Executive Director of the Pageant, Maxine Menson said "the 2009 theme is Peace and Development in diversity. This is basically to communicate peace and unity in the Niger-Delta area, within West Africa and the entire Africa as a whole. This year's event will be bigger in terms of extension for more countries to participate" she submitted.
This year's event is expected to have a female American artiste, three other African artistes. The event will be broadcast live to millions of viewers across the world.
The event Director, Mr. Chris Ondokor further buttressed this point when he said "By hosting the event in Port Harcourt for a second year in a row, the Commission seeks to join the government of the Rivers State in sending a clear and unambiguous message to the world that Rivers State is enjoying peace and is a great destination for tourism and investment. This year's event is expected to have two representatives each from the fifteen African countries and this is being done through an open and transparent process in all the participating countries. The Pageant is beyond beauty… I promise you a swell time."

THE END
________________________________________________________
Signed By
Alayande Stephen T.
Media Executive
08066627610, 08056112687