Calabar Festival Fights Pneumonia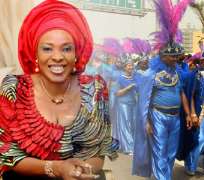 CALABAR, November 07, (THEWILL) - For many, the Calabar Festival is only about fun and revelry. However, the increasingly popular annual event despite the fun angle has so many other dimensions that have continued to be to the benefit of the people of Cross River State.
For the wife of the Governor of Cross River State, Mrs. Obioma Liyel Imoke, it is also a moment to reflect on the underprivileged and sick in the society. Hence added to the numerous dimensions of the 32-day celebration is also the humanitarian angle.
Mrs. Imoke, who over the years has continued to emphasize this angle by incorporating programmes into the festival that would project the plight of the less privileged, has gone a step further this year initiating a new fight against pneumonia.
In previous years the Cross River First Lady had fought the cause of homeless children through her Destiny Child project, picking them off the streets and catering for them. As a means of raising funds for this project, she has consistently organised the Destiny Child Fashion Show as part of the 32-day programme which has recorded considerable success, attracting notable names in the Nigerian music, movie and fashion industry.
Also, the Carnival Calabar Queen initiative has served as a tool to fight against the trend of child abandonment through her Mother Against Child Abandonement Initiative.
Commissioner for Information in the state, Mr. Patrick Ugbe, said the fight against pneumonia introduced in this year's edition of the festival would be tagged 'The Breath of Life' and would be unveiled when the state government offers a glimpse into Destination Cross River on Thursday at the International Conference Centre in Abuja. The event would serve to showcase what package the state has to offer in this year's festival.
"Proceeds from this event would go to the charity Breath of Life, which is Her Excellency's desire to ensure that the funds are utilized to assist the patients who are suffering from pneumonia and so on. There is a big charity content in what we do and what we stand for. Breath of Life is for the procuring of pneumonia drugs for the children of Cross River state. That is the emphasis," Ugbe said.