GOV T.A. ORJI'S SEED OF PARANOIA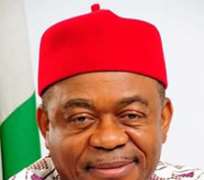 In politics, it is advisable for political leaders to know the difference between what they think is right and what they believe would work, not necessarily in the short run, but in the long term.
This is a vital skill that puts a good politician in fine fettle. In his book, All Too Human, George Stephanopoulos, erstwhile aide to Bill Clinton, captures this more succinctly when he wrote, 'judging how the world will judge what you do, how a position (or policy) will play, is an essential political skill'. He added, 'if a politician can't predict what will work, he can't survive in office'.
It is for this reason that political office holders are advised to always think in terms of their place in history. It is not for nothing.
History is often in the future. But it is written by the events of today. The reframe has always been, to paraphrase late American President, Richard Nixom, don't be quick to say how splendid the day has been until the sun goes down. In the life of every politician, the opportunity to exercise a far-reaching influence or take a crucial plan of action come every so often. Some miss the big moment and end up making a big damn-fool-mistake.
I doubt if the Governor of Abia State, Chief Theordore Ahamefula Orji henceforth to be referred to as T. A. Orji, is aware of this wisdom that has guided many a successful politician well. Let's not forget: Until now, Gov. T. A. Orji was a dour and dank politician. He didn't like publicity. He lacked aura, and he had no edifying philosophy.
He didn't pretend he has one. And he has never been an inspiration to anyone looking for someone who will motivate him or her to meet his/her aspirations. Even in politics, his critics and even close confidents see him as an opportunist. His harshest critics label him as Judas, who betrayed the man who 'created' him. Interestingly however, the job of a political office holder sometimes bubbles up in unlikely moments.
That's part of the reason why politics is unlike other vocations. It can throw up a 'nobody' to become 'somebody'. Also in politics, you can orchestrate a controversy. And because some controversies feed some personalities, the issue that stirs up the controversy becomes the oxygen of publicity, either for good, or bad, for the politician in question.
Certainly, Gov. T.A Orji has hemmed himself in, and tied a bungee rope around his neck by one singular political faux pas by sacking non-natives of Abia state. Wrenchingly enough, the victims of this obnoxious policy of 'Abia for Abians, are citizens of South East. Even the governor's aides have further exposed the inner bowels of the man when in their defense of the policy, they painted a picture of a 'sweet revenge' on citizens of Abia some years ago. This is a shame. No wonder, Plutarch in his book, the Life of Alexander wrote that 'sometimes a matter of less moment, an expression of a jest informs us better of their characters and inclinations than the most famous sieges, the greatest armaments, or the bloodiest battles.'
Years after I read this great book, the profundity of the import didn't quite sink in until Gov. T. A. Orji struck. Counting the costs to his victims is like the bloodiest of battles that Plutarch so agonizingly relived in the life of Alexander. That's the kind of heartbreak you would get if you had watched the procession of displaced Imo citizens from the Abia State public service last week.
The dismissed workers had stormed the Government House Owerri in 15 buses. Some of the inscriptions in the placards were emotionally touching. Some of them said 'Imo indigenes displaced in Abia public service have arrived home'. This is Gov. T.A. Orji's inhumanity to man'. 'Owelle Rochas, please save us, you are our hope.' Some of the sacked workers cried openly that after years in the service of Abia State, they were thrown out like cargoes into the sea.
They urged Gov. Okorocha not to abandon them. Many of the victims of T.A. Orji's action were female teachers, health personnel and local government staff. Most of them wore black skirts, and black headties. Yes, it's a mournful day for them, a day the evil report from Gov. T.A. Orji resonated with tears in Imo State. The secretary to the state Government and former vice chancellor of Imo State university, Prof Tony Anwuka, who had suffered similar fate some years ago from the services of the old Imo state university, inherited by the Abia State government in 1992, assured the sacked workers on behalf of the state government, that their 'labour of work' will not be in vain.
Few days earlier, my classmate in secondary school, Mr. Vincent Anolu, who worked for the Abia state owned newspaper, The National Ambassador, sent me a text message. It was terse but tearful: he has been sacked by Abia state government simply because he is not an indigene of the state. Mr. Anolu, a very hardworking journalist, is one man whose integrity should be something of a good testimonial to any employer. But Abia state government isn't considering that: 'Leave our state for us', is the message some sadists in Abia state have been passing around these past two months. Now, Mr. Anolu's family like, many other families affected by T.A. Orji's directive, are in pains.
All of this runs against the spirit of our constitution that encourages that 'no matter where you came from, no matter your religion, we are one. Let's live together'. Governor T.A. Orji has scoffed at this, as one of his aides said constitution my foot. Statements such as this one, is more annoying than moving. And the governor is reported to be afraid to appear in public while his aides are sliding around the truth, to justify the action of their master. As many families in Imo and other South-East states sob, a friend looked at me and said, 'Gov T.A. Orji will remain a man alone with his own failings before the world'. 'Mark my word', he said in cold anger, 'his political career is finished'. I don't know about that.
But that's the sort of outbursts you get when emotions boil over. If not that I have had a handful of well-behaved, well-nurtured, graceful and dignified Abians, there would have a rush of anger to jump into conclusion that my brothers in Abia are racists. They are not. The trouble however is that, in every society there are citizens, who by their atavistic tendencies and political naivety, tip the country on the brink, and unwittingly, portray their state as 'axis of evil'. I recall one incident in 1992 when I was a reporter for Champion newspaper posted to cover Abia state.
The present Abia state, then fondly called God's own state, was about one year old then. I doubt if Abians can honestly lay any claim now that Abia State is God's own state. The issue at stake in 1992 was the sharing of assets of the old Imo state. Governor Ogbonnaya Onu who was the first elected governor was briefing journalists at the Govt House Press Centre that blustery evening. An argument had ensued. One reporter with the state Broadcasting Corporation Abia (BCA), Chikezie Onyeabor had urged Dr. Onu to sack all Imo citizens at the Abia state University which had just been ceded to Abia and re-named Abia State University, Uturu. The way Mr. Onyeabor spoke was so inciting that I challenged him.
This same fellow who called for the sack of Imo indigenes lived and worked in Owerri for over 15 years before Abia was created from the old Imo State. With the level of his exposure, not necessarily his education, one would have thought that Mr. Onyeabor would be more circumspect. But he was not. 'Choose the fights you engage in, don't choose the wrong fights,' my father advised me years ago. That was what restrained me from squaring up against Mr. Onyeabor. Perhaps, Gov. Orji thinks like Mr. Onyeabor. These are men who are moved more by primordial things rather than any lofty consideration, with no eyes on the future. Onyeabor and I later became friends. I commiserated with him when he lost his first wife. That was some years after I left Umuahia for Lagos. As long as those in positions of authority fail to see the 'red flags' and look beyond today, how long will they continue to make awful bad decisions that is capable of putting tomorrow at risk.