Boeing 787 Dreamliner Hit By Landing Gear Glitch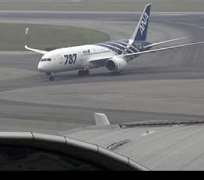 Boeing Co (BA.N) and All Nippon Airways (9202.T) are investigating a landing gear problem on the 787 Dreamliner, the first technical glitch reported since the new jetliner entered service less than two weeks ago, the airline said on Monday.
Pilots on the first of two aircraft delivered so far to ANA were forced on Sunday to deploy the landing gear using a manual backup system, after an indicator lamp suggested the wheels were not properly down.
They landed at Okayama on the second attempt following the incident, the airline said.
"We are not yet sure what the problem was, but we are investigating," an airline spokesman said, adding that Boeing was also involved in the investigation.
Kyodo news agency linked the problem to a hydraulic valve, but Boeing declined to confirm the cause.
A Boeing spokesman in Europe said: "We are aware of this matter and are on site in Japan with ANA offering whatever assistance they require."
The 787 Dreamliner is a revolutionary lightweight aircraft built mainly of carbon composites designed to save fuel.
It was delivered in September after three years of production delays and made an inaugural flight on October 26 from Tokyo to Hong Kong followed by regular services from November 1.
ANA has said it will fly the aircraft domestically on a trial basis before putting it on long international routes.
The 787's two engines power electrical systems that operate flight controls and landing gear. U.S. aviation regulators required that Boeing satisfy extra steps before certifying that system because it was a new design.
Because the high-profile Dreamliner incorporates so many design and manufacturing firsts, the airplane is under increased scrutiny from the aviation community. The plane is about three years behind its original development schedule because of snags in the extensive global supply chain.
Boeing departed from traditional use of reliable aluminum construction, opting instead for reinforced carbon composites to improve fuel savings. Many in the traveling public know the Dreamliner as the world's first plastic jet
"Teething problems are relatively common for a new jetliner entering service, but the 787 is under a lot of scrutiny due to its difficult development history," said Richard Aboulafia, an aerospace analyst at Teal Group.
"This glitch shouldn't have any impact on customer perceptions of the 787, as long as Boeing aggressively pursues its investigation and implements any needed fix," Aboulafia said.
The incident comes days after a Boeing 767 landed on its belly in Warsaw after the landing gear failed to deploy.
The wheels-up landing was hailed as a miraculous escape for the 230 people on board, but aviation experts say such incidents are relatively rare.
There have been 10 accidents involving stuck landing wheels since 2000, none of them fatal, according to a database run by the Flight Safety Foundation (www.aviation-safety.net).
The landing gear for the 787 Dreamliner is made by Messier-Dowty. Parent Safran (SAF.PA) declined to comment.
Boeing's shares were down 27 cents at $65.53 on the New York Stock Exchange in late morning trading.