BASA: REAL REASON FG DESCENDED ON BRITISH AIRWAYS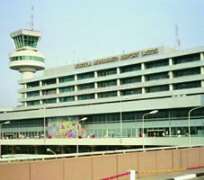 • Airport
Last Wednesday, the Slot Allocation Committee of the aviation ministry slashed the flight frequency of frontline United Kingdom carrier, British Airways, from 14 weekly flights to 10.
By this action, BA will, effective November 8, 2011, operate three weekly flights out of the Murtala Muhammed International Airport, Lagos, as against seven it hitherto operated, using its super jumbo B747-400 airplane. More so, it will now be arriving 6am and depart 10am as against 6pm and 11pm respectively.
However, its daily flight out of the Nnamdi Azikiwe International Airport, Abuja, so far, remains intact. When this happens, the airline will be losing well over N250 million weekly on a conservative estimate and will also have a backlash of loyal passengers to deal with.
BA tops the list of airlines that make a kill on the Nigerian route and in 2009, it raked in N32 billion from ticket sales alone to the amazement of most Nigerians. The former Spokesman of the defunct Nigeria Airways Limited and Chief Executive Officer of Belujane Konzolt, Chris Aligbe, said the government's action simply showed it wanted to adhere strictly to the principle of reciprocity with the UK, meaning that it had to be a game of equals.
Interestingly, industry watchers are pleasantly marveled at the audacity of the Federal Government, which seems to have woken up from its slumber to balance the imbalances in the Bilateral Air Services Agreement (BASA), binding Nigeria and the UK. Under the agreement, both countries are to enjoy 21 flight frequencies each weekly. UK maximised its own as her carriers enjoy 21 weekly flights shared between BA (14) and Virgin Atlantic (7) while Arik Air, the only airline in Nigeria reciprocating is doing daily flights out of Lagos to London Heathrow and five out of Abuja, leaving a deficit of nine.
The BASA, as the name implies, is the agreement and the legal basis for the establishment and operation of air transportation services between any two countries. It regulates the operations of scheduled air services of the designated carriers between and beyond either territory. Nigeria has over 60 BASAs with countries from all continents. The main denominator in BASA discussions is reciprocity. Before it is signed, the contracting countries are convinced that the deal is done with every sense of equity such that no party feels cheated out of the deal.
In the event where one party cannot reciprocate, it collects royalties from its 'performing' partner and when the other party indicates interest to reciprocate, it is expected it gets equal treatment from its partner.
That is why countries signing BASA deals assemble a crack team of aviation experts with vast experience in route designation/evaluation, market analysis, aviation politics/law, at the negotiating table. BASA deals clearly stipulate the type of aircraft to be used for the service, the frequencies, and, of course, the destination.
In Nigeria, BASA deals are handled by the international economic relations division of the transportation ministry. The division represents the ministry in Bilateral Air Services Agreement (BASA) meetings with other countries as well as liaises with regional and international multilateral agencies on aviation matters.
BASA has been in existence as far back as 1944 during the Chicago Convention. That was also the reformative stage of the International Civil Aviation Organization (ICAO) during which a lot of annexes were introduced to handle specific aspects of the global aviation business.
Over the years, the BA and other international airlines have enjoyed near monopoly on most of the routes, accounting for over N200 billion loss in capital flight annually. According to analysts, the international carriers have assumed the demi-god status because they allegedly hob-nob with Aviation Ministry officials and other top government functionaries who dole out additional flight slots and multiple entry points to them without putting the plight of the local carriers into consideration.
Indeed, there has been an old silent debate in the aviation sector questioning the rationale behind the Federal Government's continuous generosity in doling out both multiple entry points and additional flight frequencies to virtually all 'greedy' international airlines seeking to expand their operations in the country. As it is in every debate, some support the government, especially those feeding fat from the generosity, while some vehemently oppose it.
There is also the issue of the competence of those who go the negotiating table to strike a BASA deal with other countries, most of which have become injurious to Nigeria and her airlines. On one hand, the argument is; What is the commercial aviation experience of the Aviation Ministry officials who go to negotiate BASA deals on behalf of the country? What is their knowledge of aviation politics with its almost indiscernible jargons flying from government's table to the cockpit? Why are there no representatives of the airlines at the BASA negotiation table unlike what obtains overseas?
Having unguardedly signed the BASAs, what is the government doing in ensuring that other favoured countries are as generous as Nigeria is in doling out frequencies and entry points to Nigerian registered airlines that seek to reciprocate the services? For how long will the country lose billions of naira yearly to capital flight? Must the domestic carriers be muscled out of business before the government is praised for 'honouring and supporting' air treaties, even when perceived injurious? Can't the government strengthen the domestic operators so that they can be like their counterparts in other parts of the world and also help retain the capital expatriated overseas?
On the other hand, the contending position is; Should Nigeria close her air borders against foreign airlines just because there are no domestic airlines to compete with them? Will that realize the age-long dream of expanding her international trade and commerce? Should the movement of foreign airlines into Nigeria be so restricted even when the government is signatory to various international conventions like the Yamoussoukro Declaration, Banjul Accord etc; that seek to promote liberalization of the African skies? Are there capable Nigerian airlines that can effectively compete and help retain the capital that is flown out?
Seasoned aviation analysts have repeatedly said Nigeria always signed BASA deals using people with or no knowledge of the sector and they end up burning their hands. That is also their view as it concerns the Open Skies Agreement Nigeria signed with the USA in 2001, they described as too premature. As such, several calls have been made for the deals to be reviewed but for one reason or the other, nothing has been done in that regard.
Just last week, Sir Joseph Arumemi-Ikhide, the Executive Chairman of Arik Air, Nigeria's largest flag carrier designated the London route by the Federal Government gave graphic details of how the United Kingdom government, in a bid to protect its carriers, tactically drove it out of the Abuja-London route.
Arumemi-Ikhide while announcing its painful discontinuation from the Abuja-London route said the British government told them in harsh terms, when it applied to do the service, that there are no slots in London Heathrow and that if it was bent on flying into Heathrow, the only available option was to rent slots from the British Midland International ( BMI ) at a whopping cost of £1.4 million (N357 million) between 2009 and 2010; commencing from the winter season. BMI, he said, works hand in hand with Airports Coordination Limited in the slot allocation deal in Heathrow Airport.
He said the airline paid an initial deposit of £600,000 (N153 million) and then pays £52,250 (N13.3 million) monthly to BMI and after the expiration of that, the company increased it from £52,250,000 monthly to £90,000 per month and that when the airline tried to negotiate the amount, BMI refused to shift grounds.
'Is this fair? Their own carriers come here unhindered so where is the level playing field? They said if we can manage Stanstead or Gatwick Airports, then that'll be fine. What are we going to do in those airports? Why didn't they choose Akure airport here too? It took a long time before we got slots for the Lagos-London service. It was frustrating. These unfair treatment and slots issues are not contained in the BASA deals we have with them' this is unfair.
He advised the Presidency to allow the Federal Airports Authority of Nigeria (FAAN) commence the sale of landing slots to international airlines, especially British carriers, as it is practiced at the Heathrow Airport in London. He said the move will hurriedly and completely address what he termed the imbalance in the workings of the BASA deal with UK.
'Let FAAN commence sale of slots like BMI. They'll tell you can come but you can't land. What sort of business is that? Are we supposed to drop our passengers via parachutes into the airport or what? We went to the DOT in UK and the man rhere told us that he was employed to protect British carriers and once he achieves that, he's fine. He said we should go to our own government to save us. Is that what it ought to be?, he queried. Experts say there was no way Arik would have ever made profit on the Abuja-London route using the BMI approach.
A senior aviation official who craved anonymity said: 'BMI will simply sit and make money without hassles from Arik Air and others who showed desperation in flying to London. Those are some of the clauses enshrined in BASA deals that those signed with the UK will never see. They are part of aviation politics and it takes experts to iron all clauses and phrases out with them. If you don't do that, you'll simply burn your fingers and that is the problem with Nigerian BASA deals today.
Those who signed them are only interested in kickbacks and royalties that will accrue from the deal, period. It's only when people stark kicking that they'll notice something was hitherto wrong and yet they won't learn next time. It's a problem with the Nigerian system. You can't blame the foreign carriers. They saw weak officials and they capitalize on their ignorance to get what they want. It's all part of aviation politics', he said.
During the days of Nigeria Airways, the airline was a strong negotiator of BASA deals and this made it difficult for other countries to bamboozle the country.
Nigeria today is the toast of about 40 schedule international and cargo airlines and that explains why all the major international airlines are not only here, but jostling to fly into the major international airports from there respective hubs. According to industry records, foreign airlines repatriated a whopping N200 billion from Nigeria in 2009 alone by way of capital flight. Of the international airlines, British Airways topped the list of 'successful carriers' operating into Nigeria with ticket sold put at approximately N32 billion.
It is followed closely by Emirates, grossing nearly N22 billion being the amount of tickets sold from January 2009 to December 2009. Other big earners on the lucrative Nigerian routes are Virgin Atlantic (N11, 832,010, 763.40), Air France (N10, 859, 450,927.40), KLM,(N10, 507, 299, 275.00), Delta Air (N7, 001, 304, 508.00), Qatar Airways(N6,799, 302,758.00), South African Airways (N5, 775, 448, 204, Egypt Air (N4,831,799,154.60) Kenya Airways(N2,807,340, 905,00) Arik (N4,343,492,015.00 and Turkish Airlines (N1,825,406,905.40)
Others in the lower category of highest earners are Alitalia (N931, 339, 519), Iberia (N769, 187, 923), Saudi Arabian Airlines which only operates only to Kano from Jeddah grossed (N846, 133, 401.00, followed by China Southern Airlines with (N769, 187,932), Aero Contractors (N241, 438, 780), Afriqiyah (N302,496,743.00) and Royal Air Maroc which began operations a little over a year ago made (N266,627,990.00).
While the huge sum of earnings has stunned many Nigerians and confirmed that Nigeria is haven for international trade and commerce, others have described this as big capital flight and national hemorrhage that must be stopped. An Aviation Consultant and Chief Executive Officer of PDT Consulting, Taiwo Adenekan, explained that countries try as much as possible to protect their domestic carriers from bigger foreign airlines who easily capitalize on various air treaties to prey on them.
He expressed disappointment at the government's generosity in granting both extra frequencies and entry points to foreign airlines at the detriment of domestic carriers. 'We have multiple entries in this country. Ticket sales alone last year was about N200 billion. We have BASA with some countries and now they have what is called commercial agreement, which is worse off. British Airways for example comes into this country 14 times in a week (from Lagos and Abuja). The country is losing because the airlines are not investing in this country in terms of offices, in terms of staff or anything. All the airlines are doing is they cart away those money back to their countries.
As regards the exchange, they are the ones making the naira so big. In the past before, we had what was called a stabilized foreign exchange for airline alone. But CBN changed that rule, now they buy at the open market, it is one single exchange now. So the 80 per cent of the N200 billion are carted away annually without reinvestment in this country in terms of personnel, our staff are not trained, in terms infrastructure, they  are not putting money together to do any other thing that is tangible. They are not buying aircraft, they are not doing corporate social responsibility.
So economically, we are losing at it. In the past 10 years or thereabout we have watched the contribution of the aviation sector to the GDP, it is between 2.5 and 4 percent but it should have gone higher than that when you look at some of the advance countries. So multiple entries gives more money to the foreign airlines at the detriment of the domestic airlines. On the operational side, before if you are going to Dubai you will fly Chanchangi or Bellview from Port Harcourt into Lagos then  join your flight. Lagos remains the hub for all international flight then, now that one has been decentralized and the domestic airlines are dead. Chanchangi is no longer flying, it is flying on borrowed aircraft.
Bellview is out of business, because Bellview and Chanchangi they had 28 and 24 per cent market share on those routes especially Port Harcourt, Abuja, Kano. So the airlines are dead because all these airlines are there, KLM is in Kano, Air France is in Port Harcourt, Lufthansa is in Lagos, is in Abuja. They are all over the place so they kill the domestic operation. Government needs to review that policy. If you are flying another entry port, the amount of money they collect is about 80 dollars commercial agreement is nothing to write home about, government should review it. A substantial portion, I am looking at 30, 40 per cent from that 120 billion should be retained in this country', he stated in anger.
Nigeria signed both Open Skies Agreement (OSA) and Bilateral Air Services Agreement (BASA) with various nations across the globe. The aim is to improve the economy by promoting international business and in the process, earn foreign exchange. OSA which Nigeria signed only with the United States of America (USA) in 2000 means each country can operate into the other's airports unhindered. There is no restriction as to the airport(s) of choice, ground handling and so on.
In other words, US carriers, under OSA are allowed to set up their own ground handling companies in Nigeria and if this happens, ground firms like the Nigerian Aviation Handling Company Plc and Skypower Aviation Handling Company may be forced out of business. North American Airlines was the first USA carrier to operate under the Nigeria/USA OSA. It later discontinued and then Delta Air Lines came onboard. United Airlines has also joined and Continental is also expected to join the party before the year winds up.
To reciprocate the deal from Nigeria's end is Arik Air, Bellview and Air Nigeria, which were the three domestic airlines designated by the Federal Government. Unfortunately, Bellview has packed up, leaving only Arik and Air Nigeria. The Director General of the Nigerian Civil Aviation Authority (NCAA), Dr Harold Demuren said one of the hurdles that slowed down Nigeria's reciprocity was Category One, whose journey took about four years to complete.
In the interim, Arik had to start the Lagos-New York operations under a wet lease arrangement.
However, with multiple entries becoming the order of the day, domestic operators have lost that juicy market to the European carriers that become stronger while Nigeria registered airlines become weaker.
Aviation analysts have argued that the country is worse off if she does not protect her market.
According to Olumide Ohunayo of Zenith Travels, aside the huge capital flight, the foreign airlines are no longer too keen on interlining with Nigerian carriers because the attraction is usually the feeding and de-feeding mechanism whereby the local airlines feed the international airlines with passenger from a hub like MMIA and also help them distribute the passengers the fly in from overseas in Nigeria.
'But when the foreign airlines are already flying to virtually all the lucrative domestic routes, of what importance then is the interlining? When they find out that they are closed and they are not able to expand, it does not attract foreign investors to want to partner or ask them to come and join any of the global alliances. Why are these global alliances looking for airlines in India, Vietnam, or in one region or the other to partner with them? The answer is simple; it's because they want them to bring their own domestic market as a marketing point to supply to the alliance group.
But in our own case, we don't have it because we have opened all the entries and the airlines are coming in. I can excuse for the Africa carriers because we are part of the Yamoussoukro Accord, we have championed it and we say we believe in it but for the other foreign carriers it is a problem. And again, why are we not looking at what can be done to our airlines? We cannot continue like this, we need to move these airlines from individually owned carriers to carriers owned by Nigerians. It is when we do this they can now start keying into public facilities and we can all work together to get the things are right for them?' he queried.
Commenting on the Nigerian BASA deals, former Director of Operations of NAL and renowned pilot, Capt Dele Ore, x-rayed the entire BASA deals of Nigeria and submitted that Nigeria has been at the losing end since its inception.
His words: 'As far as BASA is concerned, we've been running fully at a deficit. This deficit as enshrined in the negotiations ensure we receive some kind of royalty, especially where NAL couldn't fly to. Unfortunately, over the years or at the demise of Nigeria Airways, it looks like this royalty that was being collected cannot really be accounted for. Later, they went ahead and created an account where the royalties were funneled into. Now, from that federation account, what really happens to it is a big question I cannot answer. It is pertinent to state here that the losses are enormous when you sign a BASA deal and you do not reciprocate it. Reciprocity is something you must strive to live up to. Worst case scenario, you could get another carrier that can operate that route on your behalf and spell out how the proceeds will be shared. If not, you'll lose all round.
These, I must say we have lost over the years. And we also allow some countries to claim what we call grandfathers' right over us as being our colonial masters. They're thinking that these rights they hold automatically make us their children and for that reason they were not even paying these royalties.  That had a ripple effect because it culminated into general refusal to pay royalties. Some countries started complaining that paying was wrong, arguing that if UK does not pay, why should they be paying since their services were buoyed on BASA? So, they refused to pay as well. I don't know how much of that mess has been cleared off now. But recently, the issue of BASA came up with the UK and Nigerian government for renegotiation. This renegotiation, as far as I'm concerned is long overdue because you can see that the terms of the original BASA was not being adhered to.
With that lopsided arrangement and disrespect to agreement, it now became, instead of single airline, a multiple designation. We are now having multiple entry, no longer my own capital to your own main gate. People are now coming in to Port-Harcourt, Abuja, Lagos and all that. So, for this to be properly addressed, it requires renegotiation and it also requires very knowledgeable people to be on the government delegation, so that we are not shortchanged. Because some BASA deals, you can whip in many things- aircraft maintenance, aircraft technology transfer, training and all of that.
This might be areas you know that you are deficient and so you can always rub in all these things. That is why we call it bilateral and the people must come to the drawing board where we sit down together and we agree. When we now agree, we sign. The two governments will now go and ratify it. So, I think we've lost quite a lot in BASA agreement because people are either just operating and not paying the right royalties or not even paying at all. Better still, we should have encouraged some Nigerian airlines to go to some areas where we don't have reciprocal service.'
Stakeholders hope government will not rest on its oars in balancing the imbalances in the aviation BASA deals as most governments strive to protect its carriers on one hand, even while preaching liberalization on the other.