ACTUALIZING BIAFRA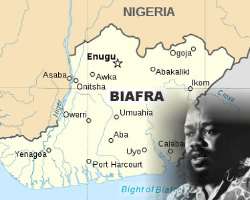 Fighting for freedom is one thing that meets with lots of oppositions. It is human nature to try and enslave others and history has a lot to teach us about this. In the 1960s, precisely between the years of 1966 and 1970 more than 3.1 million men and women and children lost their lives to no other reason but the fact that they wanted to be free from oppression and subjugation. Today the same situation that led to the genocide and war still persists even to a greater degree.
Currently a lot of people are actively engaged in the struggle to reclaim Biafra's sovereignty and secure independence for the people who have been so oppressed and persecuted for this long time. One thing is certain Biafra's freedom activists of today have come a long way. This is a new breed of people who are focused, determined and would rather have a planned future than a chanced tomorrow. Biafra of the 1960s was a child of circumstance and never pre-planned for while the new Biafra is one the people are consciously and surely planning and working hard at achieving her freedom. Nothing is being left to chance, the people are conscious of the challenges while at the same time they are joyfully anticipating the day of their freedom and independence.
Some of those challenges the activists are contending with are very obvious realities and we shall mention a few of them. One of the challenges facing Biafra's separatist movements is that: Nigeria is still a country under the UN umbrella and is still recognised worldwide as such. Also Nigeria still has a few allies such as Britain and the Islamic/Arab world. And as a result Nigeria still has working diplomatic relationships with those and some other international organizations such as Organization of the Islamic Conference, OIC. We can recall that Nigeria could not have defeated Biafra in the Biafra-Nigeria War of 1967 to 1970 without the help of some of those allied nations of Britain and the then USSR. It wasn't going to be possible for them. But like we all know, the world we live in is a dynamic one, time and conditions change. And as all keen watchers of today can bear witness there is a lot of diplomatic and policy changes taking place in the world. Some, rather all those nations that committed one of the worst policy and political blunders of all time in Biafra have come to realize that there will never be a time anybody can be justified when they collude with another to commit Genocide such as was committed in Biafra.
With this being the case at the moment, the Biafran activists are not actually running any risk of losing the battle. At this moment it seems like situations and events are actually aligning favourably to bring about a speedy actualization of the new Biafra. But that doesn't discount the fact that there will be some hick-ups here and there along the way but on the overall the odds are hugely tilted on the side of Biafra's speedy independence. Biafra has at least one important asset she can bargain with – their oil and gas wealth. They can and are already attracting to their side some interested parties with this bet. One important reality in life that has always worked out right is using what one has to get what one truly needs. This is not new; it is as old as civilization, as in the age-old tradition of trade by batter.
The people of Biafra need an independent sovereign state of Biafra and they have oil, and people in other places need the oil and gas to power their economy and Biafrans are willing to give of their oil and gas in exchange for freedom. That is simple enough, isn't it? That is the least of prices to pay for one's freedom. These freedom activists are aware that independence or freedom is never given to anybody on a platter of Gold. There are prices always to pay. The existing nations do not naturally like new one's to emerge especially if they have anything to benefit from their oppression therefore the Biafran activists recognize the importance of allies and are willing to gain as many supports as they can. As situations continue to evolve they will definitely continue to change and finetune their strategies by taking cognizance of prevailing situations. The Biafran movements of today are definitely not taking any options off the table as they are more than ever determined to achieve their freedom and independence within the shortest time.
Written by Uche Okoro and Osita Ebiem.

Disclaimer:

"The views/contents expressed in this article are the sole responsibility of the author(s) and do not necessarily reflect those of The Nigerian Voice. The Nigerian Voice will not be responsible or liable for any inaccurate or incorrect statements contained in this article."
Articles by thewillnigeria.com