House Opposition Leader Rejects Jonathan's National Award Nomination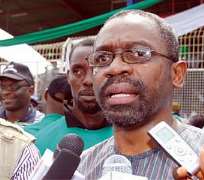 ABUJA, November 06, (THEWILL) - Minority leader of the House of Representatives, Hon. Femi Gbajabiamilah (ACN, Lagos) has turned down his nomination as a recipient of the Order of the Federation of Nigeria (OFR) by President Goodluck Jonathan, just as he questioned the criteria used in nominating recipients for the 2011 national honours.
Gbajabiamilah insisted that national awards are not supposed to be presidential awards but an award reserved for the best in the country.
The Minority Leader in a letter dated November 1, 2011 and addressed to the President said "I wish to thank you very sincerely for finding me worthy of the nomination for national honours (OFR). I am truly touched by the recognition which came to me as a surprise.
"Unfortunately Mr. President Sir, it is with every sense of responsibility and what I believe is in the best interest of our great country and the coming generation that I politely and respectfully must decline the nomination," the Representative wrote.
Giving reasons why he rejected the award, the Minority Leader stated, "As you are probably aware, about two years ago, I authored and sponsored a bill (The National Honours Amendment Bill) in the House of Representatives. The bill generated a lot of controversy both in the House and general public. By the bill I sought among other things to reform the process by which national honours are awarded. I believed then as I do now that the process had been abused and the award was no longer what was intended by the National Honours Act of 1964. The bill was eventually passed by the House but there was insufficient time to pass through the senate before the end of the 6th Assembly. I intend to re-introduce same bill in this 7th Assembly.
"I argued then as I do now that National Honours are reserved only for the best and that you do not give an award to the office but to the person who occupies that office having met the criteria. In other words, it is an award to be given in personam and not in rem," he added.
Gbajabiamilah further insisted that "the National Award is a national honours award and not a presidential or president's award. The distinction being that whilst the latter is personal to a president and he reserves the right to give anyone he chooses an award using whatever criteria or standard, he determines, a national honours award in contra distinction belongs to the nation and is given on its behalf by the president using the guidelines and criteria set out by law.
"It is for this reason that a first or cursory glance at a national honours list must leave no citizen in doubt as to why any name on the list is so deserving. Any serious question or doubt as to any name on the list taints the whole list and as is often said one rotten egg spoils the whole basket. Mr. President year in year out, we have had many rotten eggs on our honours list. This has reduced what otherwise was a well intended and noble idea to a national joke," he added.
According to the opposition leader, "whilst I believe with all modesty is that I have done my best as a legislator and diligently carried out my responsibilities as the leader of the opposition in the legislative arm of government, I do not believe my best for now is sufficient or enough to have earned or otherwise made me deserving of a national honour as required under the enabling law or international best practices. Perhaps God willing, I may be so deserving in the near future.
"For these reasons and many more Mr. President, I cannot in good conscience and without being hypocritical accept my nomination as an Officer of the Federal Republic of Nigeria (OFR). It is an appellation I would have been proud to wear as a badge of honour for the rest of my life but my principles will not permit.
"On a more serious note, Mr. President permit me to implore you to have a second look at the issue of fuel subsidy and Sovereign Wealth Fund. I particularly want you to look at what is known amongst countries with SWF as Santiago Principles as they relate to such funds. I expect your finance or trade and investment ministers should be conversant with the principles and should be in a position to brief you," Gbajabiamilah further stated.