BAYELSA CAN'T AFFORD FRESH TERM FOR SYLVA -DICKSON, GUBER ASPIRANT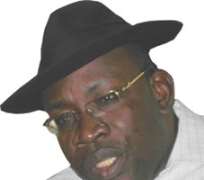 Ahead of November 11 governorship primary of Peoples Democratic Party (PDP) in Bayelsa State, some chieftains of the party have declared their interest to challenge the incumbent governor, Timipre Sylva who is seeking a second term.
Honourable Henry Seriake-Dickson is one of them. In this interview with journalists in Abuja, he explains why the present governor is undeserving of a fresh ticket.
Excerpts…
Why are you in the race for the governorship ticket of your party?
Thank you very much for that question. I am in the race for the governorship of Bayelsa, because things aren't done right. There is a lot of sufferings in Bayelsa; mis-governance is rife, lack of accountability is rife, violence is rife, a lot of things aren't going right and the founding principles of our state have been desecrated-the future looks bleak.
We don't have to reward failure and incompetence by electing the present governor for another term. He has had five years and it is the view of majority of our people that he doesn't deserve a second term.
That's about him. I am running by the grace of God and with the support of our people, to make a paradigm shift, to lay a solid
foundation for the future greatness of our people. The people are yearning for a change and that's a change they deserve. And with their support, their prayers and solidarity that I have received so far, I am running as a symbol of the change they deserve.
What you are saying is that you are at arm's length politically with the governor. At what point did you disagree?
No, the governor has been a friend. Even though I disagree with him, as the governor of my state, he is entitled to the respect that should be given to that very high and exalted office. But I disagree with him, about quite a number of things and the disagreement isn't sudden.
I have been at the forefront of efforts to enthrone good governance in Bayelsa. I have been at the forefront of a coalition aimed at stopping bad governance in Bayelsa. So, it isn't a question of me and the governor falling out. I hold nothing personal against him . He remains my friend, brother and even my governor. What I disagree with are fundamentally in terms of the policy, his appreciation and lack of appreciation of priorities and problems of our people and because, I believe that four more years of Sylva would completely destroy the foundations and future prospects of our people.
It has been insinuated that Mr. President is goading you on for the race. How would you react to that?
Well, that is very unfortunate, that's wrong and completely untrue. We started reading about a purported adoption of Alaibe and the purported dumping of Honourable Dickson. So, how many governors do you want the President to make in his own state? That's not true. Let me say that I have never said anywhere that I am in this race at the behest of the President of the Federal Republic of Nigeria, who remains my leader and an elder brother to all of us in Bayelsa, including the governor. The President should be left completely out of this. I am running on the strength of my ideas and vision and with the support of our people. So, it is completely wrong and politically unacceptable, for people to bring in the exalted office of President to a governorship contest back home.
The President is the leader of the party, he has so much to do and he is doing his best, but these are issues that Bayelsans have the capacity to determine. It is the duty of Bayelsans, delegates and leaders of the party to determine who the flag bearer of the party should be and I am not going to go into the insinuations, because as you know , I have never said anywhere that the President has asked me to run.
It isn't true. I think, because I have been a key member of the political group he left behind in Bayelsa and because I served in his government, sometimes it is very convenient for mischief makers to allege that I am the president's candidate; I don't think the President has any candidate. He isn't bothered; I think his position even though I am not the presidential spokesperson, is that the people of Bayelsa will determine who their governor should be and that's the right thing to do.
Talking about Alaibe whose stories are everywhere that I have been dumped, and that he has been adopted, let me state clearly that firstly, I am in this race to win and make a change and as we speak, and as events will show, as we approach the primary, I am the candidate to beat. But for the Supreme Court ruling which aborted governorship election in Bayelsa, including five other states, Timipre Sylva would have been exercising a fresh mandate now. At what stage did you decide to agitate for change in Bayelsa? Why didn't you contest with him for the party ticket, last year?
Thank you very much. Well, sometimes you bend backwards to give people a second chance. The party has taken its decision to conduct fresh primary. I think that's reasonable, that's lawful, that's right, in accordance with the electoral law. I have never had an ambition in the sense that quite a number of people, political desperadoes, show ambition. I have said earlier that my desire to offer myself now at this point is anchored on outcome of very positive and fruitful and elaborate consultations with my people.
I am in politics to offer service and knowing that the governor having done well, having met the expectations of our people, and with the party calling for fresh primary and as somebody who considers himself
eminently qualified, I owe it as a duty to my people to provide an alternative vision. It isn't about raw ambition. Fresh primaries will be conducted and a lot of people are coming in.
One of the issues is the planned removal of the acting chairman of the party in the state, Darius Obieme, ahead of the governorship primary. The argument is that a substantive chairman ought to have been announced from the senatorial zone of the last occupant who resigned. Now, how do you juxtapose that with what happened at the national secretariat of the party when the South East zone said one of their own should have been allowed to replace Dr Nwodo? How do you reconcile that?
Well, I am not in the policy making organs of our party. I am an elected official. So, let me not talk about the reasoning that informed the scenario you alluded to. What I go by as a loyal member of our party is the constitution and the constitution of the PDP says it clearly, that in the event of a temporary vacancy, there should be replacement from the senatorial district of the last occupant of the office. That to me, is clear enough and that's the pillar upon which our request for the proper thing to be done is hinged. Let me also add that I have nothing personal against my good friend, Darius Obieme, who clearly has paid his dues in this party and he is a good friend of mine, but these are issues that transcend friendship, these are issues of due process-- it has to do with constitutional provision.
So, nobody by what we are doing is saying that Darius should leave his position as deputy state chairman for which he was elected. He will continue to be deputy state chairman, but the constitution, the provision that says what should happen, in the event of a temporary vacancy should be respected and applied, irrespective of whose ox is gored, even though the governor, as part of the cronyism that has
taken over Bayelsa has blood relations, about three or four. Darius is one of them in the party-they are giving service to our party, no one is complaining about that, but the point is that, the constitution should be respected and that's the anchor and I thought that the leadership of our party, the PDP National Working Committee, and appropriate organs should do what is right.
You have said you aren't the anointed candidate of Mr. President, but have you informed him as one of the leaders of the party? Secondly, what are your plans for the state?
The first one, you are going against my advice and my caution, which is that we should leave the presidency out of this intra-party contest. I am sure that whoever emerges will be the president's anointed candidate. I think I have said that over and over. So, I will not say more on it.
Talking about making a difference, my antecedents are clear. In all the positions that it has pleased God almighty to make it possible for me to occupy, in the service of my people, I have done my best.
The records are there for those who know. We started this transition, 1998, from my affiliation with the NADECO people. I became the state chairman of Alliance for Democracy (AD). I became national legal adviser of AD. The party outside the South West did their best in all the elections in 1989 and I was a state chairman.
I became national legal adviser because of my belief that alliances of my people should be broadened in Nigeria and you will agree with me that event of the last presidential election and the event that followed thereafter proved me right. Now, I became national legal adviser of Ijaw National Congress, the apex Ijaw body, a product of Ijaw struggle; I did my best there. Now, I became Attorney-General of my state, briefly, I did my best. I have been in the House of Representatives, representing my people for four years plus doing my best and my people also believed I have tried my best and I have a clear vision.
So, there should be no doubt that my agenda is clear and I have a proper understanding and there should be no doubt as to my will to execute. So, that's all I can say. You talked about the provision of the constitution which stipulates that when the position of a state chairman is vacant, it must be filled by someone from the senatorial zone of the last occupant. I want to know why this wasn't an issue before now in the Bayelsa state chapter of the party?
That's a relevant question, but you are also not saying that because it wasn't raised at that time, or raised in the manner it is being raised now, it cannot be raised. That's not what you are saying. So, what I can say is that at that time, to be frank with you, a lot of stakeholders paid deaf ears to a lot of anomalies, because they didn't want to do things that a lot of people would pay attention to at a time the elections were about to hold. But it is also not late to do so now because we are talking of enforcement of observance of the constitution and a party must obey its constitution, whether a matter is raised forcefully, immediately, or shortly thereafter. Once raised, a party must invoke the supremacy of its constitution to say, this is the right way to go.