'HOW I SURVIVED AGAINST ALL ODDS'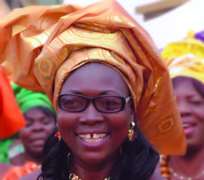 Uche
A lot of women prefer to be fended for while some choose to be independent. A woman derives great joy when the husband provides all her needs but for Alisiobi Uche, proprietress of Rosyland School Mafoluku, Lagos, it was not so. She was determined against all odds to start something just to keep herself busy and to make her own money. From organizing lessons for children, she has established a big school which has produced so many graduates. In this interview with Saturday Sun, she tells her story.
Mrs. Uche hails from Ideato Local Government Area in Imo State and married to a prince from Mbionwu royal family. Their marriage is blessed with five children (two boys and three girls).
What was your growing up like?
I grew up just like every other child, in a royal family too. I am from Mbaise in a royal family of Chief Ihuoma Nworie. I grew up in a polygamous family. According to them, my father had more than 17 wives and my mother happened to be the last. Story had it also that my mother came in to rescue my father who had no male child from the other wives. My mother married an old man but when she came in, she gave birth to four boys and four girls. We are eight in number and I am the seventh child.
What is your position in the family?
I don't know because some died before we were born and some left with their mothers. According to my mother, we were not all born in the family because of the position she occupied as the only woman that had male children. She faced the hostility of other family members because my father was so rich in farm produce. His brothers were there waiting for him to die so they could take what belonged to him. To them, my mother was an intruder. As a result, whenever she was due for delivery, she would run to another place and after delivery, she would hide the child there for sometime, including me. My father was just there as a king, surrounded by his influential brothers. To the glory of God, we all survived except one that went to the Nigerian Army during the Nigerian Biafra war and did not come back.
How did you go to school considering your position in the family?
Unfortunately, there were no resources for us to acquire formal education. As a result, I only acquired adult education. I was among the first batch at Lagos Secondary Commercial Academy, Ikorodu(LASCA). I was a sales girl at Florida Book Shop, Ilupeju, Lagos. At 6pm, I would carry my bag from there to my study centre.
How did you get to the level you are now?
God creates something out of nothing. That is exactly what He has done in my life. After my adult education evening classes, I sat for GCE in 1979 and for WAEC in 1980 and got my papers. Immediately after that, I gained admission into Federal College of Education Technical, Akoka in affiliation with University of Lagos. I finished in 1984, did my Youth Service and concluded in 1985. After that, I started Rosyland Preparatory School.
What has polygamy taught you?
It taught me that when you find yourself in a polygamous home, you really need to be on your feet. Again, mothers are really important and needed because the man is just there producing the children but what happens to the children is none of his business. It is then left for the women to gather their own children and those who are strong enough to take care of their children are the ones whose children are doing well. The children of the weak are going astray. Polygamy is not a good thing. The unhealthy rivalry you see in such homes is not something we should begin to discuss. If the man is weak to gather the family together, it causes a lot of problem that transfers from one generation to the other. As the children are growing, their mother tells them all she went through. My mother did the same. She told us all she went through and the hatred they had for my mother, they transferred to us. But God being who He is, has made the rejected stone to be light because if you come to that family, it is my mother's children that are the light.
What is your relationship with your step siblings?
We have cordial relationship but up till tomorrow, they keep wondering how we made it despite all they did to subdue us.
How was Rosyland School established?
Rosyland School came into existence on October 2, 1985. Immediately after my youth service, I applied for a teaching job. I was still waiting for the results of the interviews when the idea came to me. Moreover, I didn't like the idea of asking a man for everything. I was not just happy that my husband would go to work and I would be at home. One day, I told him I really need to keep myself busy depending on when the results of the interviews would be out. He asked me what I wanted to do and I told him I wanted to gather children and begin to organize lessons for them.
That time, I was pregnant of my first son. He looked at me and asked where I intended to do that. I told him I would do it under our staircase. He didn't pay attention to that. The following day, when he had gone to work, I started going from house to house and street to street telling parents that I wanted to be organizing lessons for children instead of them playing away their time when they come back from school. I begged my husband for money and he reluctantly gave me N15.00 and I bought one blackboard and a packet of chalk. That morning, I brought out the old bench we had and sat down there. The first child that came in was called Daniel Okafor. After him, four other children came. They were five that their parents brought that day. I asked them to pay N3.00 each. Before you knew it, the place could not contain us. Today, we have a secondary school as well.
Have you had a situation where separated parents come to drag a child?
It is a daily occurrence but the first thing I do when such a situation arises, is to find out who registered the child. I cannot stop whoever registered a child from picking the child and I don't also allow who did not register the child to pick the child. In most cases, I have got across to both and talked to them to see if there is a way I can help mend the broken home. I do that because it is having a negative effect on the children. When you see a child from a broken home, you will know because they do not concentrate in the class. Most of them don't even eat before coming to school. They are shabbily dressed and sometimes, do not have text books. We know them and we try as much as possible to bring them together, if not for them, for the sake of the child and his future.
What are your challenges as a proprietress?
One of the challenges is accommodation. If you are running a school on a rented apartment, the landlord will have his eyes on you. Most of the times, some of them will stand and count the number of students you have. As they are counting, they are increasing your rent based on that. If the landlord is not a God-fearing person, he can ask you to quit out of envy. If such a thing happens, your children cannot sit at home until you are able to get another place. Other schools will take them over. However, I thank my landlord who is so kind to us and does not give us problems. Another one is children from broken homes. When you are unfortunate enough to have many children from unbroken homes attending your school, you are going to face a lot of problems and responsibilities yourself. If you are a child of God, you will give out school uniforms, books, allow them come to school without paying school fees and even buying food for them. Another major challenge is finance. A lot of finance is needed to run a school.
For you to get your own building you need facilities from the bank and for bank to give you money, you must have collateral. The publishers too are not helping matters. They keep changing the text books. I remember during our own time, there was a book called Stone and Cozens, everybody used it. Text books then were transferred from one person to another. Today, the books used this session will not be recommended the next session. As they are changing these text books, the curriculum is being changed. And to be honest, when you open these books, they are the same. The formular for mathematics does not change. One plus one still remains one. At the end of the day, you still arrive at the same answer. So, why are we changing the text books? When this is done, it affects the parents who keep buying books. There is no stability in what we are doing. It is affecting the teachers, students, parents and the totality of our educational system. Basically the world is changing but that does not mean that we should change everything. All we need to do is to add where necessary. We should go back to old school so that we can find our pace and way.
Some people believe that the higher the school fees, the higher the standard of the school. What is your take on that?
There is no truth in that statement. In the first instance, the syllabus for all schools are the same. From the syllabus, you derive your scheme of work, from that, lesson plan and from the lesson plan, you derive your lesson note. You cannot tell me because I am in a school with a tall building, I am going to have a different syllabus. It all boils down to people's idea. To some people, if it is not where you wear trousers and drive a car to, nothing is happening there. It is just like what we are seeing in Nigeria. A lot of people are not patronizing Nigerian product. But when these items are brought from China, they go and patronize them. That is the same problem we have. In Rosyland School, from nursery to secondary level, we do not charge much but in terms of standard, we are equal to the task.
I am not boasting but if you go round, you would understand what I am saying. Our children are everywhere. Go to Command Secondary School, ask them the best students there, the nursery and primary school they attended, they are children from this school. Go to University of Ife and Ibadan, our children are doing well there. I see education as the basic need of the child. It is like the air that we breathe. A child needs it to survive. If you give every child education, we will not have Boko Haram. If you deny a child air and food, that child will die. If you deny a child education, that child is dead as well. So, if that is the situation, why would we make it expensive? It is something that government is supposed to provide for a child free of charge. Therefore, if we are helping our government as we are doing, why should we make it so expensive? In Rosyland, the parents are only contributing in training their children because we are not charging them. So, I don't agree that because a building is high, the school fees high that the standard is also high. Let us not deceive ourselves.