WE'LL FIGHT TINUBU, ACN TO THE END -BODE GEORGE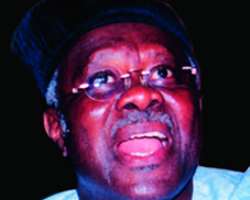 Bode George
As the controversy over the last local government elections in Lagos State rages, former National Vice Chairman of the Peoples Democratic Party (PDP), Chief Olabode George, has said that his party would not give up in the fight for the results. Speaking in Lagos, George said that the street protest he embarked on with members of the PDP was part of the party's way of challenging the results of the local government elections.
He spoke on this and other issues.
The result of the recent council election seems to be unacceptable to you and your party. What went wrong?
We did not accept the result. We took part in the election. You know this is 21st century when all election results from every polling booth would be announced and signed and you keep your copy. So, nobody can go to the collation centre and start writing results. You know in those days, once you finish elections, you say you are going to collation centre to count. So, rather than progress, we are retrogressing.
This is Lagos, the commercial nerve centre of this country. The first engineer, the first lawyer, the first doctor, the first accountant were produced here in Lagos. We are in the 21st century and somebody is coming, a retired justice of the court, who was, in fact, the former Chief Judge of Lagos, to announce results without figures. How? This is a charade. This was what happened in Western Region when they started operation wetie. For anybody to reinvent that in this present day Nigeria shows that these are not democrats.
If it were their party that was treated that way, Femi Falana and co would have been marching round the street calling themselves democrats. These people are not genuine and sincere. For these people to be doing this is unthinkable. I witnessed the 1959 and 1962 elections and I was marking the results with my father. But this is 2011, it's daylight robbery. They told this man to go and announce and the old man, without thinking what his children and grand children would think, announced result without figure. It will go into the book of records that there was one justice that reinvented it.
PDP boycotted council elections conducted in 2003 and 2008. Why did you take part in this year's?
At that time, we were advised that we should not follow illegality. The then Attorney General, Michael Andooaka, said he was going to write letters and the president would sign it. Lagos was given an ultimatum of 14 days to revert to normalcy. But he (Tinubu) got away with it. This time around, the managers of the party said go ahead and contest. The PDP has procedure. This is Peoples Democratic Party (PDP). So, we were mandated to go and carry out the elections. That is how we went there.
Many were surprised that you personally led a street protest. How long do you hope to sustain the street protest and how effective do you expect it to be?
When we sat back at the apex meeting on Sunday night, we looked at ways and means justifiable, within the confines of the law and how we should record our total dissatisfaction with the way Justice Adeyinka handled the elections. And I remember my great, great Uncle, Herbert Macaulay, during the fight against colonialism. Dr. Azikiwe then was a real Lagos man. He went round and all that. Now, this is a democratic dispensation. We have a right to air our views. So, we called the General Assembly of the party and we applied to the police and they accepted. If you as a leader accepted that your boys should carry out a peaceful demonstration, you have to be there to encourage them. I am like the old warrior. Generals don't retire.
We only fade away.
I led the team. We all trekked from the party secretariat to Maryland and back. You were there and you saw the whole length we covered and thank God there were no incidents. No ugly incidents. Even the people on the streets were happy. They said, let us have more of this. This is it. It is also part of democracy to showcase to the teeming millions who voted for us that we would no longer tolerate this brigandage. We would no longer tolerate this totalitarian acts by a man who says he is a democrat. We have proved to everybody that he does not even know what democracy means. Look at members of his party, who see him as an Emperor. He decides who stays on and decide who goes out. The governor of Lagos has no hand in it. He didn't even have a single candidate for the election.
Do you hope to sustain the street protest?
We will sustain it. We will continue until there is justice. We have looked at the composition of the judiciary.
You mean the tribunal?
Yes. The tribunal set up by Bola Tinubu. That was what Justice Adeyinka told us, when they showed him the result from Epe, Badagry and others, that if we didn't like it, we should go to the tribunal. It is because they know that those people who have been put in the tribunal are from his kitchen cabinet. It is a pity because it is a mockery of democracy.
Going by your observation and what you just said, are you still going to the tribunal set up by Lagos government?
We are going to protest the composition of that membership. If they don't want to listen, the party would meet. I'm told that he also selected members of the Court of Appeal for the election. How can you be the judge and the jury? What is going on in this country? Why is one single man taking everybody on a jolly ride? Let the Americans, who call themselves their friends know that these people are far from being civilised. They don't even understand what is democracy.
So, you may not go to that tribunal?
You know they will tell you it has a time lag, a time frame and all kinds of things that they do. But we will make the protest to the highest body and the Chief Justice of the Federation and we shall protest to the NJC. It is a charade. You can't be the judge, the jury and the defendant. We are shouting to high heavens because that was the same way he entered the Southwest and said he won all states.
Why is it that your party is engulfed in what seems to be an irreconcilable disagreement among leaders of the party?
You know, when I hear that, I chuckle. I am not saying it because I am from Lagos State. The most peaceful zone and state in this country today, party wise, is the Lagos State PDP. I saw it from inception, from day zero. In every society, you will have the blacklegs. Even the Almighty God, when Satan was rude, He sent him away. If not for effrontery why will Satan disagree with somebody who created him? What about Jesus Christ, and the 12 disciples? Did he not have Judas Iscariot? It is all part of societal outing.
Now, we have on record what these people you call party people have done. Normally, you should have wranglings and people will settle it. As we say in Yoruba, between your tongue and your teeth, they quarrel, but they must live together. But these ones don't want any progress for the party. They are intentionally coming to disrupt things. They are paper tigers and they can go to the press. They shout and go to the press and say yes, PDP cannot win one councillorship seat. What have they contributed, even in there local government? Even in his village in Igbogbo, what has Ogunlewe done to the party there? No contribution, but you are quick to go to the pages of newspapers because you had an opportunity to have been an ex-minister. This same party gave you that opportunity.
If they said we cannot win one single councillorship position and we won over 100 councillors, are they the people you should go to war with? Did he contribute to anything we were doing? As for me, it is not my private party or private company. It is PDP. The voice of the people is the voice of God. What is the percentage of those dissenting voices? We called the state congress and you saw the crowd that came. If we had planned it for much longer time, it would have paralysed the whole of Lagos. But these guys are not repentant; they are not loyal and we know where they go.
You spoke about Adeseye Ogunlewe. What of Musiliu Obanikoro?
As for Obanikoro, you know his son contested. He has always known me. He came to me and said Egbon, please, I am not what they say I am. I said yes, your son got the ticket and the party would support him. I would also support him personally because he is also my son. We went all over the whole place to campaign for him. We worked and strategise for the young man. I went there when they piled up the result for collation and I told him not to leave the place because the returning officer absconded. With the help of the police, we ensured that those papers did not disappear. So, he was happy because he saw the drive and the commitment in us. Obanikoro is fully back with the party. He's not with the dissenting people.
What of Wahab Dosunmu?
Maybe he is not in the country. He is already in his 70s; so there is little he can do. He is not in the country. That is what I am told. He would not want to do what those people are doing.
Many expected that you would pull out of politics when you returned from the University of Life.
(Laughter). You know, I won't be the first in my whole large family that has had this experience of going to the 'calling.' Herbert Macaulay is my great, great uncle. He was the father of Nigerian politics. He was also an engineer. I think he is a reincarnation in me. That is why I was able to explain to my mum.
Can we tell our readers that Chief Bode George is a reincarnation of Herbert Macaulay?
You may say that. We are from the same family. Go and find out from the Aganga Williams here in Lagos, from my mother's side. He read engineering and I am also an engineer. Baba was the first engineer, the first architect and the first Nigerian politician. He was brilliant, forthright and dedicated to the fight against colonialism. He died in 1946. My mother said when he came back from prison her stomach was this big. So, it is a calling. I am not a contractor. I have my professional business that I do. But it is a calling. How can I see other people being trampled upon? How can I see human right being violated by an individual?
I heard Mrs. Farida Waziri of the Economic and Financial Crimes Commission (EFCC) saying on the television that Oyewole was the best judge. The God Almighty is sitting in His temple and watching and looking at them. There would be a day after and there would be a day of judgment. If I committed the so-called offences, I would bite the bullet. I am also a retired General and I can face the music.
But when you are wrongly accused to feather the nest of some political people…. If you go into the details, what did Bode George do?
Simply put, they said in the NPA, we disobeyed Federal Government circular. When you disobey government circular, which is an administrative instruction, who codified that to the criminal code? Was it a law or an administrative instruction? Did we really disobey that administrative instruction? Human beings would make their judgment, but the good Lord would give His own judgment and nobody would be spared.
I have looked at them and I feel sorry for the young man. I remember what Papa Awolowo said when he was put to jail and what he said came to pass. He knew he did not commit any crime. He said: 'This nation, having gone through this darkness, there would be no light until he returns.' He went through it and he came back. Going there gave me a very rare opportunity to see the other flip side of life. They are not monkeys or animals there in the prison. They are also Nigerians. I saw the good, the bad and the ugly. One became a rallying point to help so many people there. Go to Kirikiri prison; eighty per cent of the people there are awaiting trial. Justice delayed is justice denied. I was able to pay the bail of some of them. Some people N30, 000; others N50, 000 to go home.
I am lucky; I didn't die and didn't develop any rashes. So, I've been there and I have come back. It is an experience. I've seen the highest mountain in this country and I have seen worst of the valley in this country. Know what it has done to me? It is an education. It has strengthened me that no matter whose ox is gored, once there is injustice anywhere, I will be there to fight for it. I am not doing it on my own. I got it straight back from home as I told you. My great, great uncle, I got it from there. With that, I am not going to flag and I am not going to give up. Once injustice is there, I would be there to defend justice.
The greatest criminals are walking the streets of this country. Oyewole said we did not benefit one single kobo from all these accusations. The executive director who brought the memo to the boardroom was not arrested. The executive director (finance) was not arrested. No contractor was brought there. So, what did Bode George do in Bola Tinubu's court? We worked for NPA, which is federal. The Attorney General of Lagos was the one that gave Keyamo fiat; Bode George must be put in prison. I am back. I am not afraid.
I doff my hat for Gani Fawehinmi. Where are they with this injustice being perpetrated now? Like submarine, they have dived to the bottom of the sea. As long as it is Bola Tinubu turning logic upside down, it is alright. Nigerians should know who their true leaders are. They are opportunists that would gather nothing. They are rolling stones. There is no way they would go unpunished.
Is there anything you would have loved to do differently as a politician?
Because we are human beings, we cannot be right all the time. That is where the grace of the Almighty God comes in. As human beings, you are bound to make mistakes here and there. You must be honest enough, if you have that godliness in you to say I am wrong and he would forgive 70 times 70 times. That is the calling. As an engineer, I know that anything done by human being cannot be perfect. Can anybody forget Papa Awolowo? In the North, can anybody forget Ahmadu Bello? It is the same with Dr. Nnamdi Azikiwe in the East. But we have some jokers here, who parade themselves as agents of Papa Awolowo. Thank God, Mama is still alive. She said wait, we know the number of children we have. We know jokers and those who are serious. Where are they today?
What should Nigerians expect?
For us in the PDP, the journey of 2015 has started.