Accuser Of Candidate Cain Offers Statement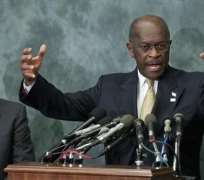 A woman who accused Republican presidential candidate Herman Cain of sexual harassment Thursday offered a statement telling her side of the story, in a move that could further undermine his 2012 campaign.
Cain has been accused by at least three women of sexual harassment when he was head of the National Restaurant Association in the mid-1990s. The issue is dominating the race to decide a Republican challenger to face Democratic President Barack Obama in the November 2012 election.
"This is absolutely fabrication, man," Cain told conservative talk radio host Sean Hannity, adding later: "We're not going to get distracted. As of today we're back on message and we're going to stay on message."
One of the women said earlier this week that she wanted to talk publicly about accusations that Cain had sexually harassed her, but she has since changed her mind and wanted to make a written statement through her lawyer.
The woman's lawyer, Joel Bennett, gave the statement to the restaurant group, said Sue Hensley, a spokeswoman for the restaurant association.
The trade group's lawyers were reviewing the statement to decide whether to lift a confidentiality agreement that she signed when she left the association. It is likely to conflict with Cain's version of events.
"We are currently reviewing the document, and we plan to respond tomorrow," Hensley, of the association, said.
Details of the woman's statement would likely put further pressure on Cain, 65, a former pizza executive who has headed polls of Republican contenders in recent weeks.
Hannity asked Cain about comments from a conservative Iowa radio host who said Cain subjected two of his female staff members to "inappropriate and awkward" comments.
"If speaking to somebody is sexual harassment, give me a break," Cain said, sounding exasperated. "All I do is speak to people everywhere I go and even though they are the receptionists, I treat them with respect by saying hello."
Cain complained of his treatment by the U.S. news media after spending most of this week in the glare of the Washington press corps, giving conflicting accounts of the case and accusing rival Rick Perry of instigating the controversy to derail his surging campaign.
"This is the D.C. culture: Guilty until proven innocent," Cain told conservative activist Ginni Thomas, wife of Supreme Court Justice Clarence Thomas, in an interview for The Daily Caller website.
Cain's charges against Perry prompted a vigorous round of mud-slinging on the campaign trail, with the Perry camp suggesting that candidate Mitt Romney was responsible and Romney's team denying it.
"Our campaign didn't have anything to do with it," Texas Governor Perry told CNN, vowing that if he found out anyone in his camp was responsible for spreading around the information, they would be "out the door."
'DISORIENTING'
Cain told the conservative activist that the experience this week in Washington has been "very disorienting," and he sought to clean up from a bungled answer to a foreign policy question he gave in a PBS interview earlier in the week.
He had said China was trying to acquire a nuclear capability, which it has possessed since the 1960s.
"Maybe I misspoke," he said. "What I meant was China does not have the size of the nuclear capability that we have."
Political commentators say Perry stands to benefit from a collapse of Cain's campaign in their fight to become the conservative alternative to the more moderate Romney, a former Massachusetts governor.
At the same time, most analysts believe Cain would eventually falter anyway, as the former pizza executive has little political experience and has recently suffered a series of stumbles.
But Cain has surged ahead of Romney or even with him in national polls and in Iowa, the state that holds the first U.S. nominating contest of 2012 on January 3.
Cain's campaign has hauled in $1 million in donations in recent days, a spokesman said, despite the accusations.
An extended controversy over Cain may be of no help to any Republican seeking to become the party's challenger to Obama, whose slide in the polls has stopped and who may be gaining traction with his criticism of Republican lawmakers for blocking his jobs legislation.
Cain told Forbes magazine he believes a former employee who now works for Perry, Curt Anderson, was the original source of the story published by news website Politico Sunday that reported on the harassment charges.
Anderson denied it, saying: "I have great respect for Herman and his character and I would never speak ill of him, on the record or off the record."
REUTERS