Italy Accepts IMF Monitoring, EU Looks For Support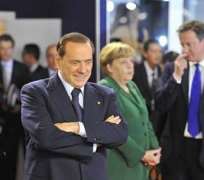 Italy, under fierce pressure from financial markets and European peers, has agreed to have the IMF and the EU monitor its progress with long delayed reforms of pensions, labor markets and privatization, senior EU sources said on Friday.
Prime Minister Silvio Berlusconi, his government close to collapse after more loyalists defected on Thursday, agreed to the step in late-night talks with euro zone leaders and U.S. President Barack Obama on the sidelines of a G20 summit in Cannes, France.
The Italian move came after Greece stepped back from a proposed referendum that could have triggered its exit from the euro area and agreed to seek national consensus in support of a 130 billion euro ($178 billion) new bailout program.
"We need to make sure there is credibility with Italy's targets -- that it is going to meet them. We decided to have the IMF involved on the monitoring, using their own methodology, and the Italians say they can live with that," one EU source said.
"Italy has no problem with surveillance at all, even with the IMF being involved," he said, adding that the European Commission and the International Monetary Fund would each report separately on how Italy was meeting its targets.
The leaders of France, Germany, Italy, Spain, the European Central Bank, the IMF and European Union institutions also discussed with Obama ways of ramping up the IMF's warchest to help prevent contagion from the euro zone's debt crisis plunging the world economy back into recession.
A G20 source said no figures were agreed but the boost to IMF resources, mostly from large emerging countries such as China, could be in the range of $300-350 billion.
EU officials said three options were under consideration, including the possibility of pooling the euro zone countries' rights to borrow from the IMF to build a fighting fund to support vulnerable sovereigns such as Italy and Spain.
The concession by Berlusconi was an attempt to shore up his country's perilous position on bond markets, where its borrowing costs soared well above 6 percent this week, raising doubts about its long-term ability to cope with a debt pile of 120 percent of gross domestic product.
An official Italian source denied that Italy was being singled out for special surveillance and said the whole euro zone would be under closer monitoring. However, he confirmed that Rome was willing to request IMF advice on implementing the commitments it gave EU leaders on specific reforms on October 27.
BEYOND GREEK DRAMA
G20 leaders will try to look beyond the Greek drama that has shaken their annual gathering and agree on measures on Friday that will convince markets the risk of further euro zone contagion can be stemmed.
Delegates gathered in the Riviera resort of Cannes found themselves watching the euro zone battle to snuff out its biggest fire yet as Greece threw a rescue deal into question and seemed on the brink of quitting the euro.
The EU source said a precautionary credit line was not seen as a credible option for Italy, where one of the main problems has been market confidence.
"With the general climate and Italy's lack of credibility, every small setback or problem is compounded and makes things worse, so the markets cannot have confidence," he said.
Greece's future in the euro zone may hinge on a vote of confidence in Socialist Prime Minister George Papandreou late on Friday night.
If he wins, government sources say he has pledged to step aside and make way for an interim national unity government that would enact the EU/IMF bailout plan, receive a vital aid installment and pave the way for early elections next year.
However, if he loses, Greece will be plunged into deeper political turmoil and may face a hard default and possible exit from the 17-nation single currency area.
But analysts are already eyeing Italy as a test case for the anti-crisis package agreed in Brussels last week.
"Italy holds the key to the euro zone debt crisis," BNP Paribas analyst Luigi Speranza wrote in a research note late on Thursday. "Developments in Italy are a crucial test for the credibility of the anti-crisis framework set up by the EU."
Concern is growing that Italy, the euro area's No. 3 economy and biggest government bond market, could go the way of Greece and require a bailout without rapid action.
Berlusconi has repeatedly promised to make deep reforms, balance the budget in 2013 and trim the public debt, but there are doubts about his commitment.
A clause in a draft communique for the Cannes summit, obtained by Reuters, showed Italy would only be held to bring its budget "close to" balance in 2013 as part of a package of economic pledges aimed at reducing economic imbalances.
SARKOZY AMBITIONS OVERTAKEN
The fast-moving Greek fiasco dominated the last meeting of France's G20 presidency and crushed any hopes by President Nicolas Sarkozy of making a last-minute breakthrough on big early goals such as rethinking the global monetary system.
The draft statement seen by Reuters showed the G20 is considering an IMF proposal to create a new short-term credit line to help countries hit by crippling economic shocks.
G20 sources said IMF resource talks were looking at an extension of the fund's New Agreements to Borrow (NABS), due to expire next year, and the injection of billions of dollars into the global economy through a special allocation of its Special Drawing Rights.
"It all depends on Sarkozy, how hard he pushes," one said.
The plan to ramp up SDRs should also help manage fears rippling through markets over Europe's crisis.
"The crisis in Europe is causing a global systemic crisis including Asia. Rather than creating a new global framework, everyone is expecting the IMF to become more proactive," Japanese Finance Minister Jun Azumi said.
"The focus of debate is how to set up a firewall but we consider that the IMF should become one big wall."
Several sessions of grueling talks ahead of this week's G20 summit had patched over differences between Sarkozy and German Chancellor Angela Merkel about how to fix Europe's debt woes and led to an October 27 deal they had hoped would reassure markets.
Yet news Papandreou's call on Monday for a referendum on Greek measures in the agreement appeared to turn the deal on its head, until Sarkozy and Merkel summoned the prime minister to Cannes and told him Greece would get no more aid until it confirmed it would meet its EU/IMF commitments.
Final G20 sessions on Friday will focus on largely agreed topics like commodity transparency and financial regulation issues like the risks posed by high-frequency trading.
REUTERS