Female fan once held me hostage for turning down her sexual advances – Slam, hip-hop/R n B singer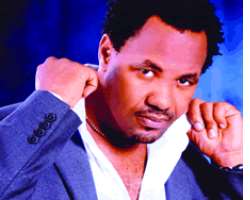 Returnee crooner, Slam, of the Ibu Chineke fame, is not only back in the nation's music landscape, but also striving to re-launch his career. After spending close to four years in the United Kingdom, in pursuit of a master's degree in Marketing, he's now back with so much to offer the industry, which he also admitted was not this big when he left.
Brimming with new ideas, Slam, who's currently promoting his third and newest album, entitled, Simply Slam, told Blockbuster, why he 'fled' the industry, reasons for coming back, challenges, his love life and many more.
Your performance of the song, African Child, at the recent premiere of Emem Isong's movie, Edikan, was wonderful. What inspired it?
Thanks, but the truth is that I always get very nervous whenever I'm going on stage to perform. But above all, I like doing spectacular things on stage in order to lure and wow the crowd and I think that was what happened. I guess it was God, who made my performance fantastic. The track, African Child, was the original sound track for the movie, Edikan. I wrote it for Emem Isong and her crew.
For almost four years, you disappeared from the music industry. What happened and where have you been?
To my teeming fans, I want to sincerely apologize, I am very sorry about that. I travelled to London to complete my master's degree programme in Marketing at the North-West University, Strafford College. In fact, I was away for three years plus. While, I was away, I must confess that I missed my music and fans. However, as at the time I left, the music industry was not as big as it is today. I'm happy to be around and alive to be experiencing all these good things. Our songs are being played everywhere and Nigerians now love our songs. I was not completely out of the industry in London, because I was playing at gigs within and outside London, even in Holland.
When did you return and what brought you back home?
I came back after completing my studies and again to partake fully in the Nigerian music industry, which has grown so big. I envisaged this industry being this big a long time ago. I believe that for you to get somewhere, there have to be some stepping-stones as well as some processes and challenges. I did some vocal training in the UK, and also attended a dance school, to enhance my dancing skills.
I'm yet to display the skills acquired in that dance school in any of my videos.
We would like to know more about your sojourn in the music industry prior to your leaving for the UK?
Before leaving for the UK, I released two albums with Kennis Music. First was Approved. It had the hit track, Ibu Chimeke. Then, the second was Dreaming About You. They were released in 2002 and 2003, respectively; I eventually left Kennis Music in 2005, because we signed a three-year, two-album contract.
Why did you leave Kennis Music?
Nothing personal. I left after my contract with them expired. I would also give it to them for a lot of positive things in the music industry. God used them to bring me to limelight.
In fact, they brought respect and fortune into Hip-hop and made it what it is today. I respect them for that. However, that does not make them perfect.
Now that you're fully back, do you still want to work with Kennis Music?
I wouldn't mind working with Kennis Music. They are still there and waxing stronger. I'm still open to discussions and willing to partner willing collaborators.
Your third effort, Simply Slam, is out and making waves, when was it dropped?
Simply Slam was dropped on SCHUD Records, jointly owned by my brother, his wife and I, recently. It is an 18-tracker with some of the videos out. It's a full-fledged hip-hop and R n B album. It's simply Slam, because in the album, you'd see every part of me. Above all, I'm just an artiste always willing to entertain my fans. The videos of Edon Tey and Check it Out, are already making waves on air. I recently released the video of Buku-Buku, and the reception has been massive. It's a cultural music video and very dramatic too. More videos are still on the way.
Now that you're fully back, what concerted efforts are you making to re-launch your career into the mainstream?
I'm back and trying my best. But don't also forget the fact that there are many people in the game. I'll keep trying and possibly re-double my efforts, like 10 times over. As an artiste, you're faced with several challenges, meaning I'll keep pushing and learning the trade.

What influenced your going into music?
Though I started singing at a very tender age. Indian movies also influenced me a lot then. I use to sing the songs in Indian movies then a lot. In fact, I was the best dancer in my secondary school, then in Taraba State. But professionally, I started in 2002, when I released my first album.
We would like to know your real name and background?
I'm Udoka Oguamanam, better known as Slam. I'm from Nwangele LGA of Imo State, but grew up in Lagos with my parents. We are from a family of seven, and also the fifth child, just five boys and two girls. For my first degree, I read Petroleum Engineering at the Federal University of Technology, Owerri (FUTO).
As a Petroleum Engineer, what are you still doing in the music Industry?
The passion for entertainment lured me in. Besides, music is my dream; it's my passion and what I love to do and it makes me happy too.
Since you're very much single, how are you coping with ladies?
I'm single with a fiancée. I do have a fiancée, but she doesn't like the whole media and paparazzi thing.
How is she coping with your life as a musician?
She knows where I come from. I knew her even before I came into the industry. She is from a very responsible family.
How long have you guys been dating?
We have been dating for quite a while now.
Is marriage on the cards?
I am hoping so, but for her I don't know
Are you thinking of marriage this year?
I am hoping that by next year, I should be getting married, God willing. It is good to have some form of responsibilities. And it makes you a better person.
You have been away for four years. What do you think has really changed most, in the industry?
There are a lot of changes. Most of the companies are using music to promote and advertise their products. Currently, people are also branding artistes. And I want to be part of all these so that I will be able to showcase myself. The only problem with the industry right now is that there are so many mediocrities. Some songs should be criticized before they go on air.
What makes you unique?
It is always good for an artiste to be relevant. Here I am talking about the African Child. Once an artiste is relevant, it is easy to find your place every time. That is why I am still relevant till now. I think that my voice and smile also add to the things that stand me out.
How did you get the name Slam?
I get carried away whenever I am singing. People listening to me get carried away too. So, when I am done, they say, whao! That was Slamming.
Generally, what do you preach in your songs?
For me, it is love. I like to talk about love in so many different ways. I do inspirational songs as well as those on lives. I am preaching inspiration and encouragement in all my songs.
Now that you are fully back, what should your fans expect from a rejuvenated Slam?
There are a lot coming up now. I am planning a tour round the country to promote my album. Basically, they should expect more videos, and good music. It is the same old Slam. I will also be dropping two new singles soon.
What is the craziest thing a lady has ever done to you as an artiste?
They are so many. The one that struck me was that of a lady holding my shirt and saying that I am a small boy. She said that she wanted me and I was misbehaving. She said she had been on my case for a while and I never gave in. I don't want to mention her name.
Music wise, do you think our artistes are measuring up with their counterparts abroad?
I can't blame our artistes. They are measuring up to the amount of resources available to them. But if I have to juxtapose here and what is going on over there, I would say that we're joking. An artiste here will be the one to compose, direct and send his works out. It is tiring and there won't be time for creativity. The system is not working properly yet.
How can this be corrected?
Honestly, I don't know. I would suggest that there should a committee that listens to songs before they are churned out. This might sound funny, but we are evolving, and will get there some day.