Foluke Daramola sets new standard for movie premiere in Nollywood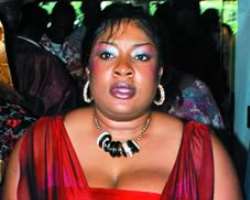 Nollywood actress, Foluke Daramola last Sunday set new standard for movie premiering in Nollywood and proved the fact that being a prominent artiste in the Yoruba genre of the movie industry does not confine one to second best.
The star actress premiered her talk of the town movie, Wakati Eda at the prestigious Sheraton Hotel in Ikeja, Lagos to the high praise of prominent celebrities who were in attendance.
The premiere started with a star-studded red carpet event, which surprisingly began on time and various celebrities from all walks of life were guests of the paparazzi and television hosts.
An actress who granted about four red-carpet-interviews was overheard saying that she was overwhelmed at the turn out of event. 'I did not know this is how big this would be', she said in Yoruba to another colleague. Saidi Balogun, one of the hosts of the event told Sunday Sun that the event was 'more than impressive'.
Stella Damasus, Saidi Balogun and Femi Branch played the role of hosts and delivered their lines well like a well-rehearsed scripts. Saidi Balogun was the first on the rostrum. He invited Stella and Femi who in turned introduced other guests. The guests' list is a roll call of who is who in entertainment, business and politics. Wife of Ondo State governor, Mrs. Oluwakemi Mimiko represented the governor and was accompanied by bigwig of Ondo State politics. Wife of the Kwara State governor, Chief Mrs. Toyin Saraki was represented by the state Commissioner for Women Affairs.
Wife of Ekiti State governor equally sent in a representative. The entertainment industry was well represented by Stella Damasus, Tricia Eseigbe, Bukky Wright, Laide Bakare, Ronke Ojo, Iyabo Ojo, Lizzy Anjorin, Funsho Adeolu, Toyin Aimaku, Kunle Afolayan, Ope Banwo and many others. The comedy industry had the likes of Koffi, Seyi Law, Helen Paul and a host of others.
Unusual happening at the premier was the choice of venue, which was Sheraton Hotel. In recent times, no movie had been premiered at the prestigious hotel. Menu was buffet and the event climaxed with Bonsue Fuji King, Adewale Ayuba serenading the host of stars who let down their hair and danced the beat of the band. Earlier before Ayuba came on stage, EMX, the man poised as the new D'banj, came on stage to render his highly energized song to the audience who gave him a standing ovation. Naturah and Eazy Lizzy also strut their stuffs.
Foluke Daramola, who presented wheel chairs and cash gifts to about three disabled men at the occasion, said her long-life desire has always being to get to the stage where she can be of help to other people. 'It has always been my dream to help others achieve their aims with the little God has given me. Life should not just be about us but others as well', she said.
The mother of two promises to release the work soon though not without some selected showing at few cinemas. And she is now focusing her attention on her soap opera, Tag Team, which would start airing soon.