PROPHET TB JOSHUA, ELECTRICITY AND GOOD GOVERNANCE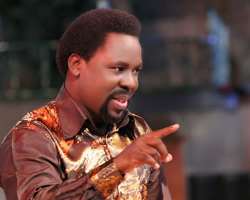 In a chat with reporters at the reception hall of the Transcorp Hilton shortly after the match, Osaze agreed that he did not play to expectations in the match but said the prediction of Prophet TB Joshua also put pressure on the team.

"We thought we could see him and see how he could overturn the negative prediction but the officials came with another prophet who prayed for us and told us that all was well".

That a soccer player did not play well as a result of prophecy or prayers are stuff we are made of in Nigeria, only in this sphere, a nation of prophets, both led and leaders, we pray for everything and get nothing.

Like my friend Atayi Babs, put it "...We are the only group of people on earth expecting God to climb down from heaven to run our government, business and domestic affairs for us. The vogue is to do nothing for ourselves because God will fill the pot-holes on our roads, provide us with regular electricity, create jobs for the jobless, put drugs in our run-down health clinics, and books in our empty university libraries, if we pray hard enough.

Our rouge leaders, who divert our resources into their private accounts abroad, pray to succeed. Lazy civil servants pray for promotions in their jobs.

The schools are no better. Students, poorly prepared for their exams, pray to pass. Our kids spend more time on their knees praying than to sit and study.

If it is change of leadership we have been praying for, a worse one seems to take over every time.

We keep creating all manner of records, the European qualifiers are almost done too, and I am not aware of any nation that failed to qualify because of a prophecy or a lack of prayers...Except Nigeria off course.

While Prophet TB Joshua was being blamed for our loss, Vice-President Namadi Sambo was prophesying that the use of generators will soon become history.

When PHCN offices still use generating sets, it was easy to understand Senate President David Mark stating that the situation has worsened in recent times despite all the prayers.

Mark said all the talk about improvement in power generation capacity was a ruse as it had failed to translate into improved power supply in the country.

According to Mark "I have not seen any change in power supply, if anything the situation is getting worse. It is very painful and we agonise over it all the time." Matter of fact is that Mark does not understand the prophecies of electricity and how they work.

According to the new 2011 Mo Ibrahim Index of African Governance in which 53 countries participated. We were ranked 41st out of 53, was that TB Joshua's fault or we did not pray enough?

The good governance report noted that over the past five years (between 2006 and 2010), Nigeria's overall governance quality deteriorated despite prophecies on the contrary.

While Guinea beat us to a ticket for the African nations' cup, Niger Republic qualified; Mauritius and Cape Verde continued their tug-of-war over the best ranked nation in Africa, in terms of good governance, with the former emerging first in the latest 2011 ranking, and Cape Verde, a close second. I am sure they are doing well as a result of prayers and we are not doing well because another prophecy says we are doomed.

We were looking for TB Joshua to pray for the super eagles, while according to the Mo report; striking improvements were being achieved by Liberia and Sierra Leone, two countries emerging from lengthy civil war.

We may not be Libya, Syria or Yemen, however we are daily becoming a laughing stock, maybe it was a TB Joshua prophecy that aided Goje in allegedly mismanaging N52 billion, spending N5 billion alone for food, while Daniel played with N58 billion, Alao-Akala is alleged to have raked in N25 billion state funds and Doma, N8 billion.

Our inherent Nigerian culture of the blame-game has made it difficult to make sense of an increase in tariff by power regulators with a corresponding reduction in service quality.

While we are treated to prophecies of how this government is building power stations, the budget on alternate power at the presidential villa keeps increasing, and the deafening noise of generating sets in government establishments continue herald our becoming a 20-20-whatever.

We have no choice than to cling on to the prophecies of new job opportunities, new businesses without power. Sadly, no matter the prophecy whether TB Joshua, or Ustaz Othman, the fact remains that our efforts at good governance, remains for now, like applying fertilizer without planting any seed...endemic corruption, poor infrastructure, lack of political will, inconsistent and anti-people policies will continue to taunt us...Time will tell.
Written by Prince Charles Dickson.


Disclaimer:

"The views/contents expressed in this article are the sole responsibility of the author(s) and do not necessarily reflect those of The Nigerian Voice. The Nigerian Voice will not be responsible or liable for any inaccurate or incorrect statements contained in this article."
Articles by thewillnigeria.com