GOLD DIGGERS HAVE TAKEN OVER IMO -ACTIVIST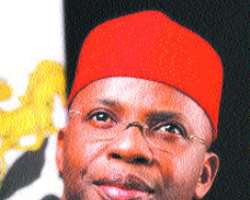 • Ohakim
Theo Nwaigbo is an activist and lawyer who found himself in the battlefield to dislodge the then Imo State Governor, Ikedi Ohakim from office. In this interview, he gives a stern warning to the incumbent, Owelle Rochas Okorocha to watch his back and beware of sycophants who ruined his predecessor and are now hovering round the Government House in Owerri like predators.
He spoke to Daily Sun in Lagos on the new government in the state, his reason for supporting the candidature of Okorocha, the challenges before the regime among others. OLA AGBAJE presents the excerpts.
Why I pitched my tent with Rochas Okorocha
As I said, I was not into partisan politics. But there is always a defining moment for a human being. I would say that I was motivated to join the political forces of Okorocha because of the arrogance in governance, the rot and the decadence that the PDP government had brought on our people.
I read an article in Daily Sun, which I made a rejoinder. In that rejoinder, I stated my disappointment about the Ohakim government known. I put my telephone number on the rejoinder. I was bombarded by series of threats to the extent that I was told not to venture coming to Imo State. I was really stirred and was emboldened to come out against their army of occupation. I informed them that I was not moved by their threats and that we should meet on the field if they were serious. I even gave them the date I was coming. Of course I was fully ready.
So, I would say that was what pushed me into politics at least if not for our sake but for our children. We cannot fold our arms and watch the state being plundered. I participated fully in the last election from the campaign to the last election. You see just before the election, I, Bamidele Aturu, Wahab Shittu, Wale Ogunade, Ebele Obi among others, started the slogan which was 'vote for credible people. Support credible candidate and not mere political party.'
Our position was vindicated because no political party was preaching any ideology but rather individual pedigree and credibility of candidates. You could also see the way politicians were carpet-crossing from one party to the other as a clear indication that, there is no distinct ideological affirmation and conviction among the parties and their promoters. That was why we insisted that people should vote for individual.
Warning
Since the result of the re-run was declared and he won, I have not been in touch with the governor. I was busy with a lot of personal issues, one of which was the passing away of my brother. However, I have been watching the unfolding events in the state and I want to make a serious warning to the governor. The same people that plundered the state economy, the same people that shattered the hope of our people, majority of them are now clustering around the Government House in Imo State.
These are sycophants and political jobbers who hold no commitment to anything but their selfish interest at any given time. The governor must watch his back, particularly on the activities of such people. He should be very careful of those who are gold diggers who will always tell him things he would like to hear just to secure their gluttonous appetite. He should beware of sycophants who may divert his attention.