BARACK OBAMA'S PRESIDENCY SO FAR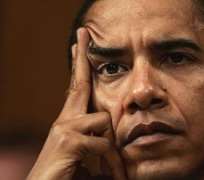 WASHINGTON (AFP) - Barack Obama was sworn in as the 44th president of the United States on January 20, 2009, after an election that saw voters embrace his 'Yes, we can' message of bringing change to Washington.
Since then, his approval rating has suffered under the weight of two wars and a struggling economy, but he earned public praise over the killing of Al-Qaeda leader Osama bin Laden in Pakistan by US special forces in May.
Here are the key dates in his presidency so far:
- January 21, 2009: On his first full day in office President Obama asks his top military commanders to draw up plans for a 'responsible' withdrawal of US troops from Iraq. American soldiers begin to leave months later ahead of a total pullout slated for December 31, 2011. Obama honored his pledge this month, announcing all US troops will 'be home for the holidays' at year end.
President Barack Obama of the United States
- January 22, 2009: The newly-elected president signs an executive order mandating that Guantanamo Bay prison, which became synonymous with the 'war on terror' policy of his predecessor George W. Bush, will be closed 'no later than one year from now.' The announcement was meant to signal a clean break from the previous administration, but the undertaking was never fulfilled and on March 7, 2011 Obama lifted a ban on military trials for terror suspects held at Guantanamo.
- February 17, 2009: President Obama signs into law the American Recovery and Reinvestment Act, better known as a $787 billion stimulus plan designed to rescue the US economy, saying it marked 'the beginning of the end,' of 'what we need to do to create jobs for Americans scrambling in the wake of layoffs.'
- June 4, 2009: In a landmark speech given in Cairo, Obama vows to forge a 'new beginning' for Islam and America, vowing to purge years of 'suspicion and discord,' laying out a new blueprint for US Middle East policy, promising to end mistrust, forge a Palestinian state and defuse a nuclear showdown with Iran. The speech is well-received globally, but Tehran rebuffs the overture.
- October 9, 2009: In a shock decision, the Norwegian Nobel Committee names Obama as its peace laureate for 2009, praising his 'extraordinary efforts to strengthen international diplomacy and coordination between peoples.' The award provoked a mixed reaction, with critics saying it was far too early to bestow such an award on Obama as he had yet to accomplish anything as president.
- December 1, 2009: Obama announces a swift 30,000-strong troop surge in Afghanistan, designed to 'seize the initiative,' cautioning that the war is not 'lost' but acknowledging that the country 'has moved backwards'. In the same televised speech the president says a fast influx of US troops can help defeat Al-Qaeda, but says American soldiers will start to return home in mid-2011.
- March 23, 2010: Two days after the Democrat-held Congress passed sweeping health care reforms, Obama signs the overhaul into law, marking a landmark policy win and taking the United States closer than ever to guaranteed coverage for all Americans.
- July 21, 2010: Obama signs into law key reforms targeting the US finance industry, promising US taxpayers will no longer get the bill for Wall Street excess. The Financial Reform Act, better known as Dodd-Frank, introduced new consumer protection to check the power of big banks and crack down on deceptive practices by credit card firms. The act's critics, however, say it goes nowhere near far enough to curb the worst practices of Wall Street blamed for causing the global financial crash of 2008.
- September 23, 2010: In a speech that gains loud applause at the United Nations General Assembly, Obama calls for the formation of a Palestinian state within a year, saying 'when we come back here next year, we can have an agreement that will lead to a new member of the United Nations - an independent, sovereign state of Palestine, living in peace with Israel.' But after a year of Middle East stalemate, the United States threatens to block the declaration of a Palestinian state at the UN, reflecting one of the greatest foreign policy disappointments of Obama's presidency.
- November 3, 2010: One day after mid-term elections, a chastened President Obama admits he suffered a 'shellacking,' with results later showing that the Democrats lost 63 seats and control of the House of Representatives. The loss is attributed to the sorry state of the US economy and frustration about the slow pace of progress with unemployment pegged at 9.6 percent.
- December 22, 2010: Obama signs a historic law repealing a ban on gays serving openly in the military, repealing the 'Don't Ask, Don't Tell' policy that allowed gays to serve if they kept their sexuality secret, after a years-long crusade by equality activists.
- May 1, 2011: Obama announces in a live, late night televised address that United States forces killed Al-Qaeda leader Osama bin Laden in a unilateral night raid in Pakistan, declaring 'justice has been done' a decade after the September 11 attacks. The announcement is celebrated in the United States but the decision to launch an American military operation on Pakistani soil plunges Washington's relations with Islamabad to a new low.
- August 2, 2011: After months of wrangling on Capitol Hill, Obama finally signs an emergency austerity bill that averts what would have been a disastrous debt default for the world's biggest economy. The relief proved short-lived, however, as four days later the ratings agency Standard & Poor's cut the United States' triple-A rating for the first time, reducing it to AA+ status after criticizing the failure to tackle a massive fiscal deficit and debt load.
- September 2, 2011: Obama reels as official statistics show the struggling US economy added no jobs in August, ending 10 months of gains, amid rising fears of recession and political turmoil over the government's fiscal deficit and huge debt burden.