NO MORE AUTONOMY FOR EAGLES' COACH-NFF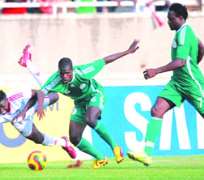 Elderson Echiejile and Mike Eneramo in action during Nations Cup qualifying match in Abuja.
Henchforth, the Super Eagles' new chief coach will no longer enjoy full autonomy in executing his job if the executive board of the Nigeria Football Federation (NFF) finally strikes out the clause, which gives total freedom and outright non-interference to the Eagles' chief coach and by extension other national teams' chief coaches.
The new term was part of the recommendations the technical committee made to the executive board, referring to the harrowing experiences the committee individually and collectively passed through with Coach Samson Siasia, suggesting that the disarming clause was responsible for the Eagles' failure to pick the ticket for next year's African Nations Cup.
Impeccable source close to the board told Daily Sunsports in confidence that the sacked Siasia had always used the clause to overrule the contributions of the technical committee in any conflict, making a life reference to Siasia's decision to invite injured Heartland defender, Chibuzor Okonkwo, resisting the pressure from the committee to drop him because he was match rusty.
'The non-interference clause made Siasia too authoritative and dictatorial. He never listened to the contributions of the technical committee no matter how cogent such a contribution was. Can you believe it that almost all the committee members pressed Siasia to drop Okonkwo because having been sidelined by injury for a long time, he would be too match rusty to make the team for that crucial match against Guinea.
'Do you know that with the clause, Siasia was not picking the calls of committee members?
The incident that broke the camel's back was when disappointed Austin Okocha angrily stormed Eagles dressing room during the second half of the ill-fated match against Guinea to suggest substitutions to Siasia.
He was ignored, reminded of the autonomy clause.
'Siasia exploited the clause to the fullest, talking down to all the committee members and insisting that his will must be done. In all honesty, the clause was counterproductive and must be reviewed or struck out completely if we don't want to hire an autocratic head coach again,' our source noted.
It would be recalled that the president of the board, Alhaji Aminu Maigari, had recently raised an alarm over his dilemma in striking a balance between interference and criticising the actions of the national team coaches.
Frowning at the list the Dream Team V's Chief Coach, Austin Eguaveon, released recently Maigari said: 'I don't want to be accused of interference, but it is crazy for a coach to invite 25 foreign-based players out of a 30-man list.
Does it mean there are no players in our domestic league?'