EDO STATE GOVERNOR ADAMS OSHIOMOLE NAMES STREET IN HONOUR OF SAM LOCO EFE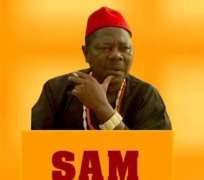 Late actor,Sam Loco Efe was honoured by A-list personalities as he was committed to mother earth on Friday,October 21,2011 in Edo State.
Amongst the dignitaries in attendance was the governor of the state Governor Adams Oshiomole who named a street in honour of the fallen actor.
The governor,who sadly watched the event,stayed for an hour before announcing the street,Sam Loco Efe Street in honour of the actor.
Honourable Tony One Week Muonagor,who was also in attendance did a tribute album to his fallen colleague amidst tears and wailing.
Rest In perfect peace Sam Loco Efe.