New Nigerian Singer Dencia and Banky W dating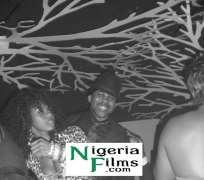 Hmmm,
So this Dencia chick has been here for almost 3 weeks and her stories keep coming in.here is a picture of she and Banky,apparently it was taken a few back when she came to see him in Nigeria,my sources say they have been dating for a long time before she stepped in the industry,he helped her get in.
Even better gist,when she came to Nigeria September 26th,it is confirmed she stayed with him for 1 week before allegedly moving into an ikoyi home a few weeks later.they have been hiding their romance but the word is out there.even in her tweets you can see her close relationship with Banky's artist skales and Wizkid and his assistant who co tangly tweets her.
Well this is a confirmed fact this is a picture of them together,they even came out to a few events together.since people started noticing,they started acting different.even at one point they were tweeting about good food from a dinner date at Ostrava restaurant.

banky w and fiancee damilola adegbite