Beacon Power Bankrupt; Had U.S. Backing Like Solyndra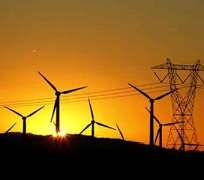 Beacon Power Corp filed for bankruptcy on Sunday, just a year after the energy storage company received a $43 million loan guarantee from a controversial Department of Energy program.
The bankruptcy comes about two months after Solyndra -- a solar panel maker with a $535 million loan guarantee -- also filed for Chapter 11, creating a political embarrassment for the administration of President Barack Obama, which has championed the loans as a way to create "green energy" jobs.
Beacon Power drew down $39 million of its government-guaranteed loan to fund a portion of a $69 million, 20-megawatt flywheel energy storage plant in Stephentown, New York.
There are several key differences between the two loans, an Energy Department spokesman said on Sunday, noting the Beacon plant continues to operate, unlike Solyndra, which shut down shortly before filing for bankruptcy.
The Energy Department also had agreed to restructure Solyndra's debt in a last-ditch effort to keep the company alive, a deal which put taxpayers behind $75 million in private investment. But for the Beacon project, the government loan is the first debt the company must pay, the spokesman said.
But the new bankruptcy will stoke criticism from Republicans in the House of Representatives who are investigating whether Obama campaign donors who were investors in Solyndra played a role in decisions on the loan -- allegations denied by the White House and Department of Energy (DOE).
"This latest failure is a sharp reminder that DOE has fallen well short of delivering the stimulus jobs that were promised, and now taxpayers find themselves millions of more dollars in the hole," said Cliff Stearns, a Florida Republican who is leading the House Energy and Commerce Committee's probe.
Energy Secretary Steven Chu plans to testify to the committee at a hearing slated for November 17.
'SMART GRID' TECHNOLOGY
The new bankruptcy comes on the heels of a White House announcement on Friday that Wall Street veteran Herb Allison will conduct an independent review of the Energy Department's loan portfolio during the next 60 days and issue a public report on how to improve the program.
The Energy Department has a loan portfolio of $35.9 billion -- $24.5 billion of which have been finalized. The portfolio includes "green energy" loans like the one given to Solyndra and Beacon Power, as well as loan guarantees for new nuclear plants and grants and loans for technology used in energy-efficient vehicles.
Beacon Power developed new technology that allows its energy storage plant to rapidly absorb electricity from New York's power grid when demand drops, and inject energy back into the grid when demand increases.
The technology is designed to help more solar and wind power -- which is intermittent -- be used by power grids, which need stable power to remain reliable.
The Federal Energy Regulatory Commission passed a new rule on October 20 requiring power markets to pay more for frequency regulation services, such as those provided by Beacon -- a major victory for the company.
The Tyngsboro, Massachusetts-based company was spun off of SatCon Technology Corp in 1997 and went public in 2000. It said in documents filed with Delaware's bankruptcy court that it had $72 million in assets and $47 million in debts.
Beacon currently operates at a loss and its revenues are not enough to support its operations, it said in court documents.
It blamed the bankruptcy on its inability to secure additional investments due to the financing terms mandated by the Department of Energy, its recent delisting by the Nasdaq stock market and the current "political climate."
The loan guarantee for the project included "many protections for the taxpayer," said DOE spokesman Damien LaVera, noting the department is not directly exposed to Beacon's liabilities, has the operating plant as collateral, as well as cash reserves held by the business.
The case is Beacon Power Corp, U.S. Bankruptcy Court, District of Delaware, No. 11-13450.
REUTERS