Japan Keeps Market Edgy AfterYen Selling Reported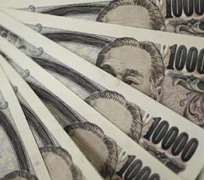 Japan vowed on Tuesday to step into foreign exchange markets again to curb excessive speculation a day after it reportedly sold a record 10 trillion yen ($128 billion) to tame its high-flying currency.
Tokyo intervened after the yen repeatedly hit record highs against the dollar, adding to authorities' concerns that excess speculation was driving up the yen and hurting the export-reliant economy if the gains were left unchecked.
Monday's intervention reached a record 10 trillion yen ($128 billion), more than double the previous record set in August, the Asahi newspaper reported, without citing sources.
"We are engaging in a war of nerves (with markets) and we will make timely and appropriate decisions," Finance Minister Jun Azumi told reporters after a cabinet meeting, when asked what would he do if speculative moves persisted.
In its previous solo intervention on August 4, the Japanese authorities sold 4.5 trillion yen, an all-time high for a single day.
Following intervention the dollar rallied as high as 79.55 yen on Monday, a three-month peak, after brushing a record low of 75.31 yen.
The U.S. dollar was trading at around 78.40 yen on Tuesday after briefly touching 79.10 yen.
NO DISCORD WITH G20?
Tokyo's second intervention in less than three months and its third this year, followed repeated warnings about the yen's negative impact on exports and economy as a whole and came just ahead of the Group of 20 summit in Cannes, France on November 3-4.
The summit will focus on Europe's efforts to contain its sovereign debt crisis and avoid a repeat of the financial shock that roiled markets after the Lehman Brothers collapse in 2008.
But many market players had thought Tokyo would hold fire before the talks, worried that an intervention may irk its G20 partners as they grapple with sagging growth and exports.
However, Azumi argued that Tokyo's action was justified in the light of a G20 finance chiefs' statement last month warning that excess volatility and disorderly movements in exchange rates hurt economic and financial stability.
"I will tell them exactly what has happened. That is, (the yen) has not reflected economic fundamentals ... We acted based on my sense of crisis and our national interests," Azumi said.
The Japanese authorities have been voicing growing alarm at the yen's climb fueled by concerns about Europe's debt crisis and U.S. economic health rather than optimism about Japan's prospects as it still recovers from the March earthquake and tsunami.
Market focus now was on whether Azumi would follow his warning with action with the impact of Monday's intervention petering out.
Traders said the intervention helped exporters offload dollars at a better rate and that there was some demand for dollars from Japanese banks.
But they cited a swathe of dollar sell orders above 78.50 yen and options market showed bets on the yen's gains against the dollar on a one-month horizon had not eased significantly, reflecting the market's belief that the impact of intervention would not last more than a few weeks.
The big scale of yen sales and the authorities' ability to keep the dollar steady around 79.2 yen for an extended period in Monday's trade spurred speculation that Japan might try to do what Switzerland did in September - pick a level and defend it with unlimited intervention.
But most market players dismissed such a scenario as too costly and difficult for an economy and market of Japan's size.
"We do not anticipate any form of 'policy floor' in dollar/yen to be adopted along the lines of the Swiss National Bank, as Japan's economic exposures are far more different and authorities have more tools at their disposal," USB currency strategists wrote in a note.
Tokyo has enough ammunition for now to keep markets on edge, with the limit on funds for market intervention due to be raised in an extra budget now in parliament, leaving Tokyo with about 46 trillion yen available, excluding Monday's intervention.
The debate is how aggressive Tokyo will be in its efforts to rein in the yen. Its past three interventions were one-day actions and the authorities returned to markets only once the yen returned to record highs.
($1 = 77.975 Japanese Yen)
REUTERS