TRIBUNALS AFFIRM AMOSUN, JANG VICTORIES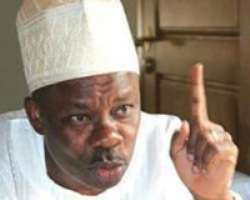 The Ogun State Governorship Election Petition Tribunal sitting in Abeokuta affirmed that the April governorship election, which brought Amosun to power, was free and fair.
Amosun contested the election on the platform of the Action Congress of Nigeria (ACN) and won convincingly.
The Peoples Democratic Party (PDP) candidate, Adetunji Olurin, who placed second in the election, accepted defeat and congratulated Amosun. But the PDP later went to the tribunal to challenge the polls' result and that of two others.
But the tribunal yesterday dismissed the PDP's petition 'for lack of merit' and ordered the party to pay the respondents - Amosun and two others - the sum of N10,000 each.
In a reaction, the state Chapter of the Action Congress of Nigeria (ACN) yesterday lauded the judgment, describing it as 'correct and pro-people.'
In his own reaction, Amosun said: 'The judgment is a further confirmation of the mandate freely given to me by the people of Ogun State.'
The Plateau panel sitting in Jos dismissed the petition brought before it by the Labour Party (LP) governorship candidate, Pauline Tallen, against Jang, challenging his return as duly-elected governor of the state by the Independent National Electoral Commission (INEC) in the April 26 governorship elections. The tribunal affirmed the election of Jang as having the majority of lawful votes cast.
Delivering judgment yesterday, the tribunal chairman, Justice Joseph Jella, pointed out that the witnesses called by the petitioners did not help their case as all of them fatally contradicted themselves during cross-examination by the respondents' lead counsel, Mr. Israel Olorundare (SAN).
Jella, in his three-hour judgment, declared that the LP could not establish a link between the avalanche of documents and witnesses as the petitioners just dumped the documentary evidence on the court.
He ruled: 'No multiple voting, no stuffing of ballot papers, no snatching of ballot papers, no threats, no intimidation as alleged. All amounted to speculations and contradictions during cross-examinations.
'It is a settled law that all these offences are criminal cases which must be proved beyond reasonable doubts. It is not the duty of the tribunal to investigate, as the tribunal is not an investigative tribunal. It is not the responsibility of the tribunal to go on a voyage of discovery.'
Jella therefore, dismissed the petition as not proved. He did not make any order as to costs.
Among other claims, the petitioners had alleged election irregularities in five local councils against the respondents namely, Barkin Ladi, Jos South, Langtang, Mikang and Riyom.
According to the suit, LP alleged that the malpractices complained of were perpetrated by the agents of Jang.
Author of this article:  From Isa Salami (Jos) and Charles Coffie Gyamfi (Abeokuta)