Auditor-General Of The Federation Rejects EFCC Audited Account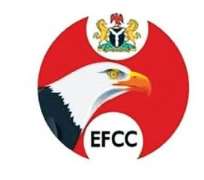 The Office of the Auditor-General of the Federation (AGF) rejected EFCC's 2007 audited account submitted by the agency in 2009 because it lacked the mandatory domestic report.
This was made known at a news conference in Abuja on Sunday by Mr. Hyacinth Obilor, Director, Extra-Ministerial Affairs at the AGF's office.
``In 2009, EFCC submitted their 2007 audited account but they submitted it without the domestic report and it was rejected.
``That was the only attempt they've made to submit to the Office of the Auditor-General since inception.''
Obilor also told newsmen that newspaper reports stating that the NNPC did not submit up-to-date audited accounts to the AGF's office were misleading.
``The Auditor-General for the Federation did not at anytime allege that the Nigerian National Petroleum Corporation did not submit audited accounts to his office.
``This office does not know the source of information that elicited the embarrassing reactions and publication in the national newspapers by the corporation without official verification from the office of the Auditor-General of the Federation.
``Therefore, this office demands a retrieval of the said publication to put the issue at stake in its right perspective.''
Obilor also said that the office had no plan to assault the credibility of the National Assembly and appealed to stakeholders to submit their audited accounts when due.
The News Agency of Nigeria (NAN) recalls that the NNPC had on Monday, Oct. 18 in Abuja in a statement signed by Dr. Levi Ajuonuma, the Group General Manager, Public Affairs Department, said its accounts had been audited contrary to perceptions in some quarters.
It said a comment credited to the Auditor-General of the Federation, Mr. Samuel Orkura that the corporation had not audited its account since inception was unfortunate.
``The statement is totally different from verifiable official documents in the possession of the NNPC, the office of the Auditor-General of the Federation as well as the Public Accounts Committee of both the Senate and House of Representatives.
``I can confirm that the NNPC as a responsible commercial entity has not only audited its accounts, but has been sending the detailed financial reports to the Senate, House of Representatives and the Office of the AGF.
``As a matter of fact, the corporation's audited accounts have been submitted to the Office of Auditor-General of the Federation up to 2010,'' the statement quoted Ajuonuma as saying.
NAN.