I don't know why Ayuba is out to tarnish my image - Musiliu Haruna-Ishola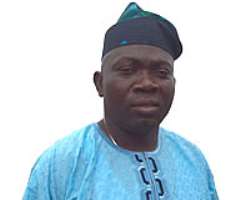 Apala crooner, Musiliu Haruna-Ishola is not happy with Bonsue Fuji king, Adewale Ayuba and he's not hiding it. He disclosed in this interview his grouse with the top fuji act and everything about his life and career. He spoke with David Ajiboye in Ijebu Igbo before jetting out to the United States recently. Excerpts:
What exactly is going on between you and Adewale Ayuba?
I don't know why he's all out to tarnish my image. We were together at the thanksgiving party of Mr. Demola Oyefeso, the CEO of New Genesis Promotions in New York last month and everything went on smoothly until I got a call from my friends in Nigeria telling me what they read about me in the paper. The said report was credited to Ayuba and it portrayed me in bad manner.
You can imagine someone who said I was disgraced at the party was actually the one that was disgraced. At a party where you know there are so many artistes billed to perform, you held on to the microphone as if you're the only one. He was actually asked to leave the stage for me to perform when it became apparent that his action was deliberate.
Are you sure there's no quarrel between the two of you before?
There's nothing like that. I think his problem is ego problem. He believes he's probably older than me or I should be paying him homage whenever we meet at any social gathering. I don't know why he's like that, I think he should grow up and stopped living in the past.
Since you released your hit album, Soyoyo what has been happening to you?
I have released another album entitled Apala d'obe about two years ago. Unfortunately the man who bank-rolled the production died about two months after I released the album. He was Saka Alagbada, a brother to the man who owns Alagbada Records. That is why we virtually had no publicity for the new album.
Are you working on any album now?
I intend to produce another album but there is a general believe among music promoters that most artistes must come to them cap-in-hand or are wretched, that is why I am really taking my time and waiting on God. As a matter of fact I can say it is about two and a half years now that nothing has been heard about me but God has been wonderful in my career. Despite not been promoted or aired on radio, television, newspaper and magazines, I have had the opportunity of traveling to Holland, United States of America and Canada to perform at shows and concerts. Right now I am working seriously towards producing another album that will be released this year.
Are you sure your fans are not bothered about this?
Naturally they would be concerned but I have just succeeded in floating a record label, Habel Records acronyms for Haruna Ishola Bello. Henceforth if produce any album it would be on my record label what I would need as it is the practice nowadays is a marketer.
What efforts are you making to ensure that your music is embraced like Fuji music?
Let me say it is important to thank God so far. What I have been able to do with Apala music. You would agree with me that it is rare for any music artiste to be as successful or as popular as his father was. I think my success is just the making of God that after my father's death I have come this far in my career.
I can say categorically that Fuji and Apala are similar because they are both music but in terms of production they are two different genres of music. I can say Fuji was developed out of Apala music because Apala music is rich in proverbs and cultural representation of the Yoruba race. My rise to limelight was borne out of an idea that modernised Apala music by introducing Saxophone, Keyboard, Guitar, set of drums and other musical instruments.
You adapted some of your works from your late father's albums...?
(Cuts in) Yes. More than half of my songs were sang by my father. For instance "Soyoyo" which I remixed was first sang by my father in one of his albums in 1969. Just like now the album was a hit then.
Most of your late father's albums are now being reproduced on CDs, is there anyway you monitor the sales of the albums?
The album are reproduced by Alhaji Ganiyu Haruna Ishola who is my elder brother, he owns Gambad Records. But my fans should expect a remix of "Ina Ran"?
Your hit album Soyoyo which you released in year 2000, were you expecting it would turn out to be a hit and how much did you make from the sales of that album?
Lots of people think my first album was "Soyoyo". Before "Soyoyo" I had produced 15 albums. Talking about what I made from the album I really thank God. Though people said I sold the rights of the album to the record label. But we the man who owns (the record label and I) did not know the album will be a hit our agreement was that as we makes sales from the album I will be paid royalty. The tape belongs to me.
Can you give us an insight into the role you played in your father's band and when you joined him?
I started singing with my late father in 1975. I used to be a back-up singer and I wrote his songs as he said them. Whenever we wanted to release I would read the lines to him as we composed the music then. I did not know I would sing professionally but I knew I had a good voice. By the time my father died I was faced with the challenge of continuing with my father's profession. I can remember vividly that my first show was on December 5, 1983.
Who were members of your band?
Interestingly, my back-up singers and drummers were kids of those who were\ back-up singers and drummers in my father's band.
Now that you are a successful artiste have you married more wives?
I am just married to two wives I don't intend to marry more wives.
Can you share some good and bad times you have had as an artiste with us?
A memorable good time I have had as an artiste was when I met former President Olusegun Obasanjo. I performed when he was on an official visit to Ogun State. Though he was far from where I performed, he sent for me. When I got to him he encouraged me to continue with the way I have not allowed my father's songs to be forgotten. He prayed for me and since then I have had the opportunity to perform for him at the Presidential Villa in Abuja.
As for the bad moment, I remember that recently I performed at an occasion and since guests at the party left we decided to stop performing around 2;30 am. I had traveled more than four kilometers from the venue of the party when the host instructed hoodlums to destroy all my musical instruments. I thank God that I got help and I have since replaced the instruments.
What efforts are you making to make sure marketers are attracted to Apala music?
I get good offers from promoters and if what I am offered is not good enough I don't think there is any need for bad feelings.
What inspired you to repackaged Apala music?
Since lots of things have changed unlike the olden days I felt if I infuse different musical instruments into Apala music with fast tempo beats it would be acceptable by all. And that was the magic for instance my father sang "Apala Disco" but with a single drum beat but I re-produced it in a way that all beats and different percussions were in it. Basically the lyrics of music of those days are still relevant if the beats and the style are changed.