Kenyan Jets Bomb Southern Somali Town, 12 Killed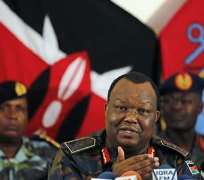 At least 12 people were killed on Sunday when two Kenyan jets bombed the southern Somali town of Jilib, residents and officials said, as the east African nation's fights to rid Somalia of Islamist al Shabaab rebels.
Kenya moved its troops into Somalia in mid-October in pursuit of Somali insurgents it blames for a series of kidnappings on Kenyan soil and frequent assaults on its security forces in the border province of North Eastern.
"Twelve civilians died including six children and 52 others were injured after Kenyan jets bombarded an IDP (internally displaced people) camp in the town," said Mohamud Ali Harbi, a local elder in Jilib, 120 km (74 miles) north of the port of Kismayu.
Emmanuel Chirchir, the Kenyan military spokesman, could not immediately confirm the raid when contacted by Reuters, saying they were waiting for an operational update from the ground.
"The jets bombarded two places, an al Shabaab base and a nearby IDP camp," Hassan Abdiwahab, a resident in Jilib, told Reuters.
REUTERS