Kyrgyz PM set to win tense presidential vote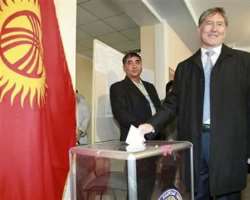 Kyrgyzstan's Moscow-backed prime minister was poised to become president of the strategically important former Soviet republic on Monday, with nearly all votes counted in a poll set to be disputed by rivals alleging electoral shortcomings.
The election is a key test of bold reforms designed to make Kyrgyzstan the first parliamentary democracy in Central Asia after two decades of failed authoritarian rule that triggered a bloody revolution in April last year.
A trouble-free election would signal the first peaceful transfer of power in the mainly Muslim country, where both Russia and the United States operate military air bases, but several candidates have already rejected the outcome.
With 95 percent of ballots counted, pro-business Prime Minister Almazbek Atambayev had 60 percent of the vote, an outright majority that would avoid the need for a second round run-off against a potentially strong rival from the south.
Central Election Commission chairman Tuigunaly Abdraimov said results were unlikely to change significantly as the remaining votes were tallied around the landlocked, mountainous country of 5.5 million people.
Atambayev's two main challengers from a field of 16 candidates were each polling just below 15 percent. Both enjoy strong nationalist support in the poorer south of the country and have vowed to contest any result they believe to be unfair.
Both Adakhan Madumarov and Kamchibek Tashiyev have said their subsequent actions would be lawful, but have refused to rule out street protests. Any show of public discontent raises the threat of violence and could expose a north-south divide.
Within the south itself, voting was also split roughly along ethnic lines. While Tashiyev and Madumarov polled well among the Kyrgyz population, many ethnic Uzbeks were supporting Atambayev.
Some said they believed his close ties with Russia were their best hope of protection from a repeat of the June 2010 ethnic violence, when hundreds of people were killed in several days of clashes between the two communities.
REFORM FLAG-BEARER
Atambayev, born in the Russian-leaning north of Kyrgyzstan, is the flag-bearer of reforms set in motion by outgoing leader Roza Otunbayeva when she assumed the presidency in a caretaker role after the revolution.
The reforms have watered down the powers of the president and established parliament as the main decision-making body, changes opposed by the prime minister's main challengers.
Madumarov, ahead in a close-run battle for second place, was among a group of candidates who declared the results invalid even before polls closed on Sunday, saying that many voters had been left off the electoral roll.
The other leading southern candidate, former Emergencies Minister Kamchibek Tashiyev, has said "millions" would take to the streets if they believed the election to be unfair. He was placed third, with 14 percent of the vote.
None of the other 13 candidates had more than 1 percent of the vote.
The next president will be allowed by the current constitution to serve a single 6-year term and will appoint the defense minister and national security head.
Stamping out graft will be a major challenge for the next leader of a country that ranked level with the Democratic Republic of Congo in Transparency International's 2010 Corruption Perceptions Index.
Per capita GDP in Kyrgyzstan, at below $1,000, is less than a 10th of that in its oil-rich neighbor Kazakhstan. The economy relies heavily on remittances from migrant workers and the production of a single gold mine.
REUTERS