Nigeria's Minting Company Prints 40 Million Notes Weekly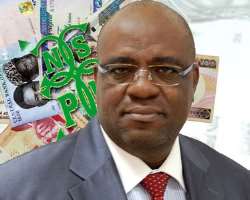 MANAGING DIRECTOR AND CHIEF EXECUTIVE OFFICER OF THE NIGERIAN SECURITY PRINTING AND MINTING COMPANY (NSPMC), MR. EMMANUEL EHIDIAMHEN OKOYOMON
ABUJA, October 30, (THEWILL) - The Managing Director and Chief Executive Officer of the Nigerian Security Printing and Minting Company (NSPMC), Mr. Emmanuel Ehidiamhen Okoyomon has disclosed that Nigeria's bank notes have one of the best security features in the world even as the parastatal prints over 40 million notes per week.
Okoyomon stated this at an interactive session with the House committee on banking currency held at the weekend in Abuja.
According to him, since the company commenced production in 1965, the Central Bank of Nigeria (CBN) has been relying on the expertise, the innovative power and the creativity of The Mint for the production of its banknotes and coins.
"These banknotes are amongst the world's most secure; their designs conveys aesthetics and confidence, and their prints tangibly convincing. The volume of production, which was a little over 2 million notes per week at the initial stages, has presently risen to over 40 million notes per week," he said.
According to him, in a particular year, The Mint as it is popularly called produced over 100 million bank cheques and over 300 million postage stamps adding that machines and key raw materials are imported from diversified but highly reliable dealers overseas.
He said security documents from the second major product line of the company accounts for about 25% of the company's business saying this product line "involves the production of bank drafts, cheques, stamps, aerogramme, diplomatic documents and treasury bills. And we are proud to say that we endeavour to meet the national demands for all these products."
Earlier in his opening remarks, chairman of the banking and currency committee, Hon. John Chukwu Oyereri said the general economic outlook indicates the need for more efficient and prudent deployment of public and private resources.
He assured that the committee is poised to meeting the expectations of Nigerians with a "strong, accountable, reliable and transparent banking regulations, sustainable deposit insurance and credible asset management."
According to him, the committee's road map is extensive, robust and based on effective monitoring and evaluation, promising that the committee was deeply concern with quality and depth of internal administrative and accounting controls."