Tambuwal - Reps Yet To Conclude Debate On EFCC Amendment Bill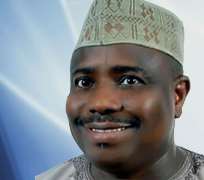 The Speaker of the House of Representatives, Aminu Tambuwal, says the lawmakers have not concluded debate on the bill to amend the EFCC Act of 2004.
Tambuwal said this on Saturday while speaking with aviation correspondents at the Presidential Wing of the Murtala Muhammed Airport, Ikeja, Lagos.
The News Agency of Nigeria (NAN) reports that the bill now before the House proposes a judge as chairman of the EFCC rather than a high-ranking police officer.
Tambuwal, however, said the House had no intention of forcing its opinion on Nigerians, adding that the lawmakers would always be guided by the general consensus of the public.
"Nigerians are divided on virtually everything; you cannot have a consensus on everything. You cannot have everybody 100 per cent supporting a single or particular objective. It is not possible.
"Even here among you journalists, you will support deregulation and these other ones would disagree with the removal of fuel subsidy," he said.
(NAN).