PROVE TERRORISM CHARGE AGAINST NIGERIAN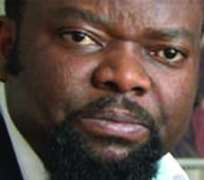 •Ofehe
Unless there is more to it than meets the eye, it is usually abnormal for the sympathizer to cry more than the bereaved. So, whose drumbeat is the Dutch prosecutor, Wim De Bruijn, dancing to in the charge of terrorism he has levelled against a Dutch-Nigerian, Comrade Sunny Ofehe, before a Rotterdam court in The Netherlands?
The environmental activist and president of the Hope for Niger Delta Campaign (HNDC), who migrated to the European country about 16 years ago, has been charged with attempt to blow-up pipelines belonging to Shell in the Niger Delta, Nigeria's main oil and gas producing region. The only shred of evidence were his wiretapped telephone conversations, given that the suspect had not stepped foot in his native country to even carry out the dastardly act as alleged.
Curiously, the Dutch prosecutor is also acting solo in the matter as the Nigerian government, that is supposed to be the victim if the act had taken place, was officially not informed before Ofehe was charged to court. The Special Adviser to the Nigerian President on Niger Delta, Hon Kingsley Kuku, expressed surprise over Ofehe's travail during a recent meeting with European Union parliamentarians in Brussels and at a conference organized by the French Institute of International Relations in Paris. Kuku said Ofehe was a victim of his unrelenting campaign against environmental injustice in the Niger Delta.
Another twist to the case was the sudden change in the charges levelled against the suspect. When policemen stormed his home in Charlois, Rotterdam, in the early hours of February 22 this year, it was based on allegations of human trafficking and document forgery. But, suddenly in August, seven months after, the more grievous terrorism charge was added to the list. The implication is that he could be jailed for life if found guilty.
But even more curious is the refusal of Mr Bruijn to make available to Ofehe's counsel the case file codenamed 'Tokyo', that is said to contain documented evidence for his arraignment, despite the order of the court. Already, human rights lawyer in Nigeria, Mr Festus Keyamo, has petitioned President Goodluck Jonathan and the National Assembly alleging intimidation and persecution of Ofehe by some powerful forces in both countries.
The case opened on September 5 and a three-man team led by criminal defence lawyer, Ed Manders, is representing Ofehe. In this interview with some Nigerian journalists in his office in Rotterdam, he alongside one of his colleagues, Michiel Pennings, speaks on why the charges don't hold water just as he berated the Dutch prosecutor for introducing a strange legal tango into the case. Excerpts…
What do you make of the allegations against Comrade Ofehe?
We have never had a case like this and we think it cannot be proved. Then the next question arises - Why is there such an allegation? There was a big article in the media here by an expert in terrorism and she said; these are not my words: 'I can imagine there can be a political aspect (to the case). It is strange that there are no links with Netherlands for terrorism in Nigeria.' The third point she said was that if you have such accusation in Netherlands, he (Ofehe) would have problems with his status to stay in the country. Her name is Quirine Eijkman. She is an expert in terrorism.
Her comments were very positive because that was what we always thought. But we are humans and we think how it can happen. However, as a lawyer, in court we have to prove things. In the case of Sunny, now his status has problems. If you made such allegations against someone and it is in the media worldwide, if he leaves this country no other European country will take him. In the end if he has to go back to Nigeria, I don't think he will be welcome over there too.
What played out in court when the case commenced on September 5 that the Judge had to adjourn to December 5?
We had a special request that the prosecutor ought to make the case file on Sunny named 'Tokyo,' available to us otherwise we do not have a fair trial. But they refused to give us the file. The second thing we said was that if you have an allegation of terrorism against someone; everyone now knows he is a Nigerian and a court case like this might destroy his person.
Has the file been given to you?
The prosecutor still refused. He said at the last court case that the lawyers could see the file. Maybe next week he would look for the file.
In your opinion, why is the government stalling?
It is not the government
In that case, why is the prosecutor dilly-dallying?
I don't know. It is either he is very stupid or there is something else behind it. From the legal point of view, the file is the start of the investigation against someone. But from the start of the investigation, they have used all kinds of special tactics such as tapping, following among others.
(Pennings cuts in) The basis for the special investigation tactics all came from the file that we do not have. In order to have a special investigation tactics, there need to be a suspicion. They derived the suspicion against Sunny from the file we do not have. So, we need that file in order to see what was going on. That is a right that we have, based on the human rights that are here in Europe.
Assuming the prosecutor doesn't make the file available to you before the next sitting of the court, what are you going to do?
We will ask the court for it and we think the court will give it to us. They have to. If in the end we do not get it, we would ask that the prosecution should not be admitted to propose the case in court. But I cannot imagine that happening otherwise we would file an appeal and seek our rights before a higher court here.
A Nigerian lawyer has petitioned President Goodluck Jonathan alleging that Sunny is being intimidated in the Netherlands, that this case is a persecution orchestrated by some powerful forces in this country and in Nigeria. Do you agree with your colleague?
It is hard to answer that question because we do not have any proof. However, we do have reasonable doubts about what forces are behind Sunny's prosecution but it is difficult to point them out, especially as we do not have all the files against him. It is equally strange that the prosecution here in Holland is concerned about something that would have taken place in Nigeria, based on a minimum of three pages of wiretaps on suspicion of terrorism. In my opinion, you cannot do that. When you have such a serious allegation, there should be a file that would be huge. Those circumstances are very suspicious. So we suspect that there is something going on but it is still very hard to pinpoint at this time.
Do you think this case is legal, technical or political?
(Pauses) I think it is all; it might be all, but we have to prove it.
(Pennings) – And if it is something that our counterpart has to give up, then you can imagine what proof we would be able to find.
The onus of proof should not lie with you but rather with the prosecution
Definitely
So why is it the other way?
We are sure in this case the prosecutor can never prove the act of terrorism. In any way, because of this case, many people all over the world now know or would assume he might be a terrorist. Where there is smoke there is fire. Sometimes you might use a process for political reasons and vice versa. But they would never admit that.
These are grave allegations against Sunny. What are the implications?
Terrorism attracts life imprisonment, but it would never happen in this case. It looks like a very big case but it isn't. As alleged, Sunny spoke on the phone with someone in Nigeria, saying I want to film the bunkering (of oil) in Nigeria and expose it to the world. And the three wiretaps were in their file for two years. If you really think someone is a terrorist you arrest him at once.
(Pennings) - Sunny was not detained for two weeks based on this terrorist act. He was set free for months and suddenly they put this on the subpoena (in August). It is strange.
Netherlands is noted for justice, considering the number of international judicial organizations located in the country. Why is this kind of trial taking place here? Is it that the prosecutor did not get it right?
There might be different possibilities, but I wish we knew the answer. However, we don't have to forget that Shell has enormous interest here.
Now that you have mentioned it, do you suspect some kind of conspiracy between Shell and the Dutch government as being alleged by some people?
When Sunny came here, we became very interested about what happened in Nigeria. For example, I have seen papers showing that about nine years ago, Shell bought weapons for the military to defend their installations. Large number of people were killed but Shell said we are not concerned with it; we did not fire the weapons. But you bought the weapons and gave them to someone else to fire. We are not saying Shell is responsible for Sunny's case, but it might also be Shell.
What are Sunny's chances in this case?
Very good chances, if they cannot prove this.
(Pennings) - Well, they have tried everything and put in so much work. About 25 detectives were working on his case. We have 7000 pages of file so far, apart from the files we don't have yet. They put in a lot of work but came up with not so much.
The Nigerian government is yet to say anything officially about this case, but what do you expect it to do as Sunny is also a Nigerian citizen?
I think nothing because this is not an act of terrorism. I think the Nigerian government is not really interested in it because this is not terrorism.