I'm really a tomboy - Sabina, former Most Beautiful Girl In Nigeria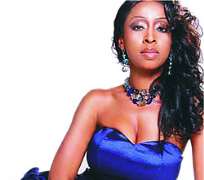 Sabina Umeh is a singer, songwriter, dancer, choreographer, model, designer, actress and former Most Beautiful Girl in Nigeria, 1990. She represented Nigeria in the Miss Universe and Miss World Beauty Pageants - where she picked up the Miss Personality Award. In this interview, she speaks on her fashion preferences. Excerpts:
Definition of style.
The freedom to be and therefore define and express my true self. After all, what is style if one is a slave to it? I believe in simplicity and sophistication. I do follow trends, my trend. In Sabina's world, whatever works for me is what is in vogue.
Beauty regimen.
Water a positive attitude and bunch of great beauty products.
Choices of accessories.
I love beads. Colourful, bold and African.
Favourite designers.
Kese Jabari, Karen Millen and Herve Leger. Favourite perfumes. Angel, because it is heavenly. Samsara, because it is an "old faithful"
Favourite colours.
Black in cars. Blue in dresses. Red in attitude. Fashion item I can't do without.
As I am forever on the move, I am addicted to huge handbags and totes in which I can carry my "village" of stuff, still leaving enough room to take my joy with me wherever I go.
Diet or exercise.
Exercise because I am naturally very active. In reality though, diet has a greater bearing on our well being than exercise, both however, are equally needed for a good state of health.
Special treat.
Shopping. Almost every girl likes shopping. Forget spa, for me, spa is work and not a treat.
Relaxation.
Spending quality time with the ones I love.
Most expensive item in your wardrobe.
Jewellery.
Fashion icons.
I admire various people at various times for various reasons.
Opinion on toning.
I can totally relate to the whole "toning mentality" unfortunately it does ultimately damage one's skin.
Opinion on plastic surgery.
In an ideal world we should be happy with the way we are created, but sadly that's not always the case. I have to walk a mile in someone else's shoes to feel exactly where it hurts (them) and I therefore will absolutely not sit in judgment.
My take on provocative dressing.
Provocative dressing is a matter of definition, degree and opinion. I can only urge one to dress with a good sense of decency and class and even, that is still a matter of opinion.
My hair and nails.
I'll wear a ponytail forever if I can get away with it. When it comes to hair, I love low maintenance. Nails too. My nails are natural, see, I'm really a tomboy passing for "lady" all this time. I love the simple, life is complex enough.
What I won't be caught dead wearing.
The pants in my home but most of us women do, right? We will never be caught dead wearing it at night.
What I will like to change about myself.
With all due modesty, nothing. I will absolutely love to improve a lot of things about myself, but change, I thank God I can say nothing.
Secret of beauty.
God, water, a positive attitude and a bunch of beauty products.
Sabina as a person.
I am feisty and fun, child-like and down to earth, yet with a mild splash of "diva essence."Proudly woman and proudly Nigerian woman.