Late Rapper MC Loph Buried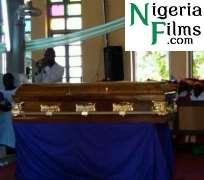 Late rapper Obiajulu Kenneth Nwaozor popularly known MC Loph has been buried.
The "Osondi Owendi" star who died on Wednesday September 14, 2011 after a ghastly car crash along the Benin/Ore express road, was buried on Friday, October 28, 2011 at his family house in Ugwuaro, Anambra State.
His only sister Chinwe who died in the same crash was also buried at the family compound.
It would be recalled that only Loph's fiancée survived the accident – being the third occupant in the written-off car that claimed the rapper and his only sibling's lives
click the link below to go to...
MUSIC STAR MC LOPH (OSONDI OWENDI) DIES IN FATAL AUTO CRASH
AFTERMATH MC LOPH DEATH;POPULAR SIERRA-LEONE PASTOR,KARJOH ARRIVED NIGERIA ON A SPIRIRUAL CLEANSING MISSION.
MC LOPH'S FIANCEE DISCHARGED FROM HOSPITAL+ ANOTHER LADY SURFACES WITH LOVE CHILD.
Late MC Loph's burial to gulp millions.
THE UNTOLD STORY ABOUT MUSIC STAR,LATE MC LOPH(OSONDI OWENDI).
© 2011 Nollywoodgists.com. All rights reserved. This material may not be published, broadcast, rewritten or redistributed without the express written consent of the publisher

Late Rapper MC Loph

Late Rapper MC Loph

Late Rapper MC Loph

Late Rapper MC Loph

Late Rapper MC Loph

Late Rapper MC Loph

Late Rapper MC Loph

Late Rapper MC Loph

Late Rapper MC Loph

Late Rapper MC Loph

Late Rapper MC Loph

Late Rapper MC Loph

Late Rapper MC Loph

Late Rapper MC Loph

Late Rapper MC Loph

Late Rapper MC Loph

Late Rapper MC Loph

Late Rapper MC Loph

Late Rapper MC Loph

Late Rapper MC Loph

Late Rapper MC Loph

Late Rapper MC Loph

Late Rapper MC Loph

Late Rapper MC Loph

Late Rapper MC Loph

Late Rapper MC Loph

Late Rapper MC Loph

Late Rapper MC Loph

Late Rapper MC Loph

Late Rapper MC Loph

Late Rapper MC Loph

Late Rapper MC Loph

Late Rapper MC Loph

Late Rapper MC Loph

Late Rapper MC Loph

Late Rapper MC Loph

Late Rapper MC Loph

Late Rapper MC Loph

Late Rapper MC Loph

Late Rapper MC Loph

Late Rapper MC Loph

Late Rapper MC Loph

Late Rapper MC Loph

Late Rapper MC Loph

Late Rapper MC Loph

Late Rapper MC Loph