APGA EMERGENCE HAS LEFT US DRY, IMO PDP LAMENTS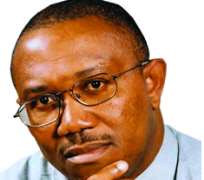 Few months after the emergence of the All Progressives Grand Alliance, (APGA) as the ruling party in Imo State, the state chapter of the Peoples Democratic Party (PDP) is already lamenting over the lack of state patronage.
Speaking during a courtesy visit to the Peoples' Democratic Party National Working Committee in Abuja yesterday by the stakeholders of the party from Imo state, chairman of the party in the state, Mr. Eze Duruiheoma declared that the state chapter of the party no longer has access to state fund to finance the party and appealed to the national leadership of the party to come to its assistance.
'Another problem we want to share with you is that because we have no access to the government house in Imo state, the funding of the party is very, very poor. As you know very well party funding cannot be left in the hands of even one person or few persons. The need to fund the party and keep it strong cannot be over emphasized.'
Duruiheoma described the APGA government under the leadership of Roachas Okorocha, as very unfriendly, as he noted that each policy of the government in the state was targeted against the PDP faithful. 'Another issue, which we wish to draw your attention to is, our relationship with APGA government in Imo State, to say the least that government is very unfriendly to the PDP in Imo State. Its policies are aimed at bringing the party to its knees. The government dissolved the local government councils in Imo State because those councils are being control by PDP chairmen and councilors.
The APGA government destabilized Imo state House of Assembly dominated by PDP and overnight turned our majority status into a minority. Up till date the (Governor) has refused to pay commissioners, honorable members and all other political appointees of the previous PDP administration in Imo State their allowances including severance pay, all because they are PDP men and women. The government illegally sponsored the impeachment of the former Speaker of Imo state House of Assembly, Goodluck Opia, two days to the expiration of his tenure, his offence was that he is an unrepentant PDP man.'
The party chairman in Imo appealed to the national leadership of the party, to ensure that members of the party from the state are adequately rewarded through party patronage, at the federal level, as he noted that the Imo electorate voted massively for President Goodluck Jonathan at the last presidential election.