AKPABIO POSTPONES LG POLLS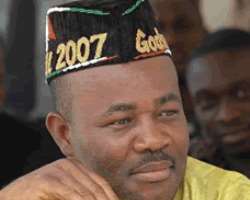 Governor Godswill Akpabio of Akwa Ibom has postponed the local government elections to the first quarter of 2012. He announced this during a meeting with members of the State Executive Committee of the Peoples Democratic Party (PDP), House of Assembly members and other stakeholders in Uyo yesterday.
The governor, who was represented by his Deputy, Mr Nsima Ekere said Akwa Ibom State Independent Electoral Commission (AKISIEC) had informed the government that December 29, was no longer feasible. He added that the postponement was also due to the demand of political parties for an extension of time, saying the period was too short for them to prepare for the elections.
'The postponement is also based on the inadequate budgetary provision in this year's budget to hold the election as planned by AKISIEC.'' He expressed optimism that the State House of Assembly would appropriate adequate fund in the budget to cover the cost of the election in 2012.
The governor used the opportunity to inform the people that the law stipulated that Local Government Transition Committee tenure was six months. He charged the transition chairmen to concentrate on the execution of projects that would leave their impact on the sands of time instead of accumulating wealth.
The News Agency of Nigeria (NAN) recalled that AKISIEC's Chairman, Gloria Ukpong while fixing December 29, had insisted that the date would not be changed.