TONTO DIKEH RESPONDS TO CRITICS ON HER NEWEST INKING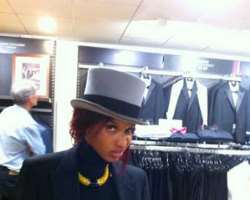 Tonto Dikeh is one of the most controversial Nollywood stars at the moment because of her intriguing lifestyle and personality.
The controversial actress who has taken front seat in her acting career with her 'i-dont-care-what-anyone-thinks-attitude is in the news again.
Some days back,Tonto posted a picture of her newest inking on Twitter and the picture has generated lots of comments and arguments among her fans and haters.
We gathered that this kind of tattoo takes about 12 hours to be completed and costs at least two thousand dollars.
In response to her critics, Tonto posted this on her twitter page;"If my very expensive tattoo affects you, kill your f**ked up self and yes I said it…Yay I am such a big deal"
Kai! This babe no send anybody.
LoL.