OGUN ACN CHAIRMAN HONOURED IN UK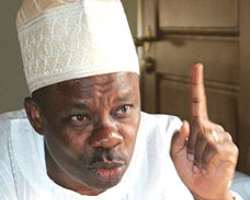 Amosun
Honour and accolades came the way of the chairman, Ogun State chapter of the Action Congress of Nigeria (ACN), Alhaji Tajudeen Bello, recently in London, United Kingdom as members of the party gathered to celebrate him.
At a brief but memorable reception cum award night organized by Ogun ACN members in the UK, Bello was applauded for his efforts and success in delivering Ogun State to the ACN in the last general election.
Chairman of the party in UK, Otunba Ayo Balogun, stated that the award conferred on Bello was in recognition and appreciation of his exemplary leadership, which, he said, enabled the party to triumph at the election and saw to the emergency of Senator Ibikunle Amosun as governor of the state.
Balogun also attested to the leadership qualities of Bello, which reflected in the smooth running and administration of the party as well as the peaceful co-existence of its members.
The host chairman, therefore, enjoined Bello not to relent in his efforts in ensuring that the state is governed by the ACN and progressive-minded people.
Speaking at the occasion, elated Bello thanked his hosts and pledged not to let them down. He, however, enjoined members of the party in UK to embrace unity and be patient with the Amosun-led administration.
He stated that the challenges facing the government are enormous but that the leadership of the party in the state is determined to make the difference and take the state to its Promised Land. Bello assured his hosts that soon 'the people of the state will begin to enjoy dividends of democracy.' He called on the UK chapter of the party to come together and form structures that will enable the party to function effectively while also appealing to them to join Amosun in his strides to industrialize the state by coming home to invest.
Bello described the reception organized in his honour and the calibre of Ogun State sons and daughters who turned up to grace the event 'as intimidating but inspiring to see.' At the occasion were the chairman, Senator Ibikunle Amosun (SIA) campaign organization, UK chapter, Mr. Muyiwa Coker; Financial Secretary, Ogun ACN in UK, Mr. Oladele Tinuosho; Publisher, Trumpet magazine UK, Mr. Femi Oketubo; and other party officials in the UK, among many others.