2012 HONDA CIVIC DRIVES IN, FLAUNTS FRUGAL FUEL CONSUMPTION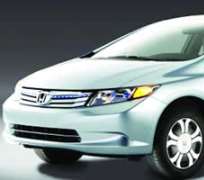 • 2012 Honda Civic
Thirty-nine years after Honda Motors Company introduced the first Civic ever, the car has remained a strong contender in the compact car category, offering unbeatable package for fun driving, utility and affordability.
Now in its ninth generation, the all-new 2012 Honda Civic offers more style, performance and technologies.
Some of these new highlights include mild styling updates, improved fuel economy and more power especially for the Si model.
Marketing Director, The Honda Place, Mr. Deepak Daryanani, disclosed this much at a press launch of the 2012 Honda Civic early in the week. He said 'the line-up of Honda Civic has got better with each update, posing knotty challenge for competitions in its class.' Deepak who described the modification as though mild, also envisioned ostensible influence the new Civic could have on prospective customers that are apprehensive of unprecedented predicaments that have lately overwhelmed competing brands.
He said the new Civic, like every Honda model, is guardedly engineered to deliver unassailable value and eminence that could give the car an edge in the competitive marketplace. But what makes the new Civic tick? Deepak listed some of the new features as stability control, which is now standard throughout the model line-up and frugal fuel consumption.
Other upgrades for the 2012 model according to him include more interior room (three inches of additional shoulder room up front and another 1.6 inches of rear legroom), and a few new technology features such as a five-inch information display, increased availability of iPod connectivity and an economy mode (ECON) to help deliver maximize more miles per gallon. The ECON mode delivers enhanced fuel economy by automatically adjusting the function of the engine, air conditioning and other key systems that affect fuel efficiency.
These improvements, Deepak reiterated would make the 2012 Honda Civic a solid pick in the compact cars' category. Powered by a 1.8-liter four-cylinder engine that churns out 140 horsepower and 128 pound-feet of torque, the front-wheel-drive 2012 Honda Civic comes in both manual and automatic five-speed transmission.
This combination returns fuel economy estimates ranging from a low of 45kmpg city/55kmpg highway. In a recent Edmunds performance testing, the new Civic went from zero to 96 kmph in 9.2 seconds.
What's more, the all new Civic comes equipped with 16-inch alloy wheels, rear disc brakes, auto-on/off headlights, a sunroof, variable intermittent windshield wipers, 60/40 split-folding rear seatbacks, an outside temperature display, Bluetooth and a premium seven-speaker sound system. The VTi model however adds leather upholstery, heated front seats and a leather-wrapped steering wheel. A navigation system with voice controls, satellite radio and real-time traffic updates is albeit optional. And for enhanced visibility, peace of mind at night and in the rain, the headlights are incorporated with fog lights, while the door mirrors have add-in turn signals with extra style.
The Civic futuristic cockpit is similarly arranged to give the driver total control of important displays and controls which are located within reach – directly in front. Buttons for audio, cruise control and more for instance are fitted intuitively on the steering wheel, making this revolutionary interface seamless to use. Drivers would also delight in the adjustable seat and steering wheel, which further enhance comfort and relief.
Talking safety, the 2012 Honda Civic comes with standard safety features that include stability control, antilock brakes, front-seat side-impact airbags and side curtain airbags. The interior changes are though minor, the two-tier dash display now includes a five-inch monitor that displays information for audio, hands-free phone use and various vehicle systems. The cabin has also been increased in size, becoming roomier with more shoulder and elbow room for front passengers, and so is the seat which may also be adjusted for comfort.
Coupled with this is the trunk which has also significantly grown, offering a total of 12.5 cubic feet in the sedan variant.