EFCC, Fani-Kayode trade words over request for case' transfer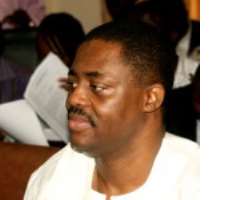 advertisement
The Economic and Financial Crimes Commission (EFCC) has accused former Minister of Aviation Femi Fani-Kayode of trying to choose the judge to try a case of money laundering pending against him before the Federal High Court, Lagos.
The commission's allegation is contained in a letter by its lawyer, Festus Keyamo, in response to an earlier letter by Fani-Kayode, seeking that his case before Justice Fatimat Nyako be returned to Justice Ahmed Ramat Mohammed, the former Judge.
The ex-minister has denied the allegation, accusing the commission of distorting facts in the case.
Fani-Kayode, who was also the Culture Minister, is standing trial for alleged money laundering brought against him by the EFCC.
His trial was stalled last year through an appeal against a decision by Justice Mohammed by the EFCC.
Justice Mohammed had refused to admit computer generated account statements relating to transactions carried out in Fan-Kayode's accounts, insisting that such documents were not admissible under the Evidence Act.
The prosecution, led by Keyamo, had sought to tender the statements through one of its witnesses, a move opposed by Fani-Kayode's lawyer, Ladi Williams (SAN).
The Appeal Court, Lagos, over ruled the court's decision on May 27. The Appellate Court admitted the statements of account, marked "Exhibit E" and directed the case at back to the lower court.
The case has since been put on hold owing to the former Minister's decision to appeal the ruling at the Supreme Court.
While it was thought that the trial will resume before Justice Nyako, Fani-Kayode wrote to the Chief Judge of the Federal High Court Justice Ibrahim Auta, seeking a  return of the case to Justice Mohammed.
Justice Mohammed sits at the Enugu division of the court, following his redeployment.