AN UNTOLD STORY ABOUT OHAKIM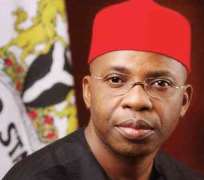 Inasmuch as a few people in the current administration would want to make people in the Ohakim's administration particularly, Dr. Ikedi Godson Ohakim, personae non grantae in our Imo State, such orchestrated efforts have been met with stiff resistance arising from a renewed ardor of and increasing number of Ohikim's loyalists. There are some schools of thought on why this phenomenon exists.
Interestingly, it is held that the supporters of Rochas Okorochas have grown increasingly disenchanted with him because of a perceived lack of performance and betrayal of trust. Similarly, some people who supported Rochas are having 'buyers' remorse' simply because Rochas, who they thought to be their messiah, is performing below their expectations. In all sectors of the economy, some of Okorocha's supporters admit that their man is not equal to the task. They are of the view that though Rochas was successful in running Rochas Foundation, he was not prepared to govern or manage a much larger economy.
Also, some believe that they were lied to as a means to garner their support. Others, who are dithering, conclude that they are unsure if Okorocha will be able to perform given more time. While some of these people see 'rescue mission' mantra an unhinged pelt for Rochas, others seem unfettered in their criticism of Okorocha. Those who have left Rochas believe that the experimentation is over and based on Rochas Okorocha's antecedents, he does not have the capacity to govern Imo State. One such person, who did not shy away from expressing his feelings about Owelle Rochas Okorocha, was Prof. Herbert Emenike Nwankwo, a Systems Engineer and Planner. Ironically, Prof. Nwankwo wrote profusely on the internet demonizing Ohakim while campaigning for Rochas Okorocha as he heralded the mirage called "rescue mission".
Today, Prof. Nwankwo has turned against Rochas for what he mildly termed as 'betrayal and failure'. Nwankwo said, "Rochas left the people's boat to sink once he became entrusted with the power of life and death. He betrayed the people's trust when he jumped ship in search of personal glory. Rochas betrayed the people…" Nwankwo added, "It was obvious from day one of their [Okorocha's] campaign that the Rochas Team lacked direction. Recall how they started their campaign with nothing in the form of agenda but were rescued by the propaganda mounted by the Diaspora Igbo for Good Governance (DIGG-USA) when we came up with a manifesto they copied and posted on the internet."
Still, the glum tone of their voices and looks on their faces of these former supporters of Rochas testified to their utter disappointment. Reading what former Rochas Okorocha's supporters have been writing to discredit him seems disquieting for someone who has been in office for less than 250 days. It is unbelievable to see how fast the exhilaration has turned into exhaustion and exasperation. Apparently, these individuals rejected Okorocha's assertion that he had done a lot in office. "I will tell you within the first 100 days I have done a lot," Okorocha emphasized in his recent newspaper interview touting his accomplishments. Infuriatingly, Nwankwo scathingly surmised with the following Rescue Mission grade report:
Education Rescue - F
Commerce and Enterprise - F
House Rules/Regulations in Support of Rescue - F
Industrial Development Decisions that help Rescue - F
Instances of Crime Fighting from Rescue Effort - F
Community Developments Track - F
Community Cooperatives - F
Self Help Initiatives and incentives - F
Local Government Elections - F
Youth Jobs and Empowerment - F
Job for the Political Boys - A
Jobs for the people of Imo State - F
Agriculture Incentive - F
Food Production to Support Rescue - F
School Construction as Expected - F
Hospital Constructions Expected - F
Medical Clinics We Expected - F
Ability to Move and Manage Momentum - F
Frivolous Trips Overseas - A
International travel to waste time and Money - A
Evidence of ability to do as promised - F
Mbakwe Legacy Revival Efforts - F
Visionary Insights and Actions - F
Local Government Leadership – F
In his own defense, Rochas Okorocha said, as reported in the Daily Sun, "I am not on training. I already know what I want to do for the state. I have clear vision, on what I want to do and there is no way Rochas can be classified as an un-performing governor. And I tell you proudly and boisterously too that I will perform." Prof. Nwankwo concludes that Okorocha does not have the capacity to perform. He now sees Rochas as habitué of overseas, while the state seems to be on fire. Herbert rebutted, "Ladies and gentle men, the emperor has no clothes. He is not just stack naked, he is also brainless too. What a team? Unless there is very quick reversal, we are doomed in Imo State."
Again, the Daily Sun attributed the following to Governor Rochas Okorocha: "Within 100 days, we are building a hero square like the Eagle Square. Within 100 days the Oguta Wonder Lake, which became an abracadabra during the last administration, we changed the name to Oguta Lake of Pleasure, that place is receiving the best structure since inception. Within 100 days we have introduced Imo College of Advanced Professional Studies. Within 100 days Concorde Hotel has been completely renovated and we have gotten partners to partner with us." These claims cannot be verified. There is no concrete evidence to authenticate Okorocha's claims. In his own counter, Prof. Nwankwo interjected, "The bottom-line [is] truth. Rochas has sweet propaganda mouth. I do not think he listens to the people he governs. We want to see things happening that exist without being directed to it by the government. It should be what touches people… So it is not for the governor to show us what he did, but for us to tell the governor what we are able to do because of his work. That is when it turns to become good governance. If only the governor can see what he has done, then he has not done [anything] enough." Alleging that the Okorocha administration is corrupt, Herbert said, "The idea of security vote is an epitome of corruption. Corruption is not only about what you kept, but also [it is] how to do your business and how you make decisions."
Well, the cursory look at the decisions and policies of the Okorocha administration reveals a conundrum marinated with incoherent political philosophy. Most often, Nigerian leaders lack ideology and policy directions needed for substantive policy considerations. For instance, what was the policy consideration for dissolving the leadership of 27 Local Government Areas? One can only see a political consideration, which will solely benefit Rochas Okorocha considering the amount of money that should have gone to the citizens at the local level, but will end up siphoned to a private bank account. The decision to dissolve the LGAs has the political insiders laughing to the bank while the Imo masses seethe in penury. Also, what is the policy consideration for abandoning the flyover project in Oweri?
The stoppage of this capital project sent some Imo citizens to the unemployment line with enormous economic consequences. Who can tell Imo the economic and social rationale behind Owelle Rochas Okorocha's suspension of the 10,000 jobs created by the immediate past administration? What is the policy consideration for changing Oguta Wonder Lake to Oguta Lake of Pleasure? Irrational policies produce irrational results. This is seemingly the phenomenon in the current administration in Imo. Undoubtedly, Owelle Rochas Okorocha unwittingly botched the translation of his campaign promises into concrete policy initiatives, thereby disconcerting some of his supporters who refused to circle the wagon. Though some people take pride in defending Okorocha's policies for venal reasons, others are loath to defend him. Some of these people, such as Prof. Herbert Nwankwo, does not conceal his loathe of Okorocha's policies or lack thereof. So far, there seems to be no antidote to Rochas Okorocha's speckled problems.
In any case, Rochas failed to placate his political insiders, independent supporters, and Imo masses who have grown increasingly despondent over lack of actionable programs that will provide them with the dividends of democracy the people can see and touch. As a result, Okorocha's popular support is quickly waning as Dr. Ohakim's support continuously gains momentum. Ohakim's political stock is rising because of his perceived strong leadership while in office and other untold deeds not yet known to many people.
Even in the face of a gigantic mountain of opposition at every turn, Ohakim was compassionate as he steadily and meticulously committed to the interest of the Igbo at heart by ensuring that the Southeast was not bypassed or left out when citing federal projects. He worked under the radar to convince the federal government to include the entire Southeast in massive federal government projects.
It is pertinent to note that the initial Nigerian Gas Master Plan bypassed the entire Southeast. Dr. Ikedi Ohakim intervened and convinced the National Economic Council the need to include the Southeast in the Master Plan. As a result of his intervention, the Presidency reconstituted a new National Economic Council Committee on Nigerian Gas Master Plan, which was chaired by Dr. Ikedi Ohakim, who demonstrated impeccable leadership. His committee recommended that the Nigerian Gas Master Plan should also run through Southeast touching Owerri, Onitsha, and other Southeast cities. The Presidency and the National Economic Council approved the committee's recommendation. What would have become of Southeast if Ohakim had not intervened?
In another project, Dr. Ikedi Ohakim worked assiduously to ensure that Southeast was not overlooked. Again, the initial plan of the Trans Nigerian Railway Line running North-Lagos-South South-Edo-Delta-Akwa Ibom-Cross River-Adamawa and back to North did not touch any Southeastern city. Realizing the economic implications to the zone, Ikedi Ohakim worked diligently to revise the plan, which now runs through Owerri, Umuahia, Onitsha, as well as incorporating the old Enugu rail line. Ohakim never publicized his activities; he never sought any accolade for what he was doing for the entire Igbo.
In a startling revelation, the fuss about the security vote, which was heralded by the current administration, was really a distraction from Okorocha's lack of focus. Security vote during Ohakim's era was never more than N2 billion. The budget containing this amount of money had already been signed to law. However, it was changed to N6 billion for Rochas Okorocha to reduce it to N2.5 billion. This was a clear political deception aimed at not achieving an economic policy outcome.
Nevertheless, the flagging support for Rochas coupled with Ikedi's undeterred leadership and activities while in office provides opportunity for the rising political stock of Ikedi Ohakim. During his term, Ohakim liberalized the politics to the distaste of political deities in Imo State where the playing field was leveled for everyone. Unfortunately, Ohakim became a victim of his ideology, in which he expressed no regrets.
Written by Acho Orabuchi

Disclaimer:

"The views/contents expressed in this article are the sole responsibility of

thewillnigeria.com

and do not necessarily reflect those of The Nigerian Voice. The Nigerian Voice will not be responsible or liable for any inaccurate or incorrect statements contained in this article."
Articles by thewillnigeria.com