Niger Delta Communities Protest Alleged Margilisation From Oil Proceeds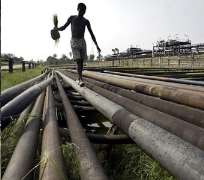 ABUJA, October 27, (THEWILL) - The House of Representatives today waded into allegations of marginalisation of some Oil Producing Communities in the Niger Delta in areas of environmental hazards compensations and key development projects.
The intervention was sequel to a motion sponsored by Hon. Robinson Uwak (PDP, Akwa Ibom State) and 54 other lawmakers.
In adopting the motion, the House directed its Committees on Niger Delta, Special Duties and Petroleum Resources to investigate the alleged marginalisation and submit reports in four weeks.
The Committees were also directed to ascertain the level of damage done to the affected communities through the Exploration activities of the Nigeria National Petroleum Corporation (NNPC) and its joint venture partners.
The affected communities are Oron, Okobo, Uru Ofong, Udung, Uko all in Akwa Ibom State.
Leading the debate on the motion, Uwak said that none of the Oil Companies operating in the communities had registered any Memorandum of Understanding with the Oil Communities despite the inhuman treatment caused by the environmental harzards.
He said that a total of 24 gas pipelines installations passed through the five communities.