Reps Investigates Arrest Of ACN Members In Lokoja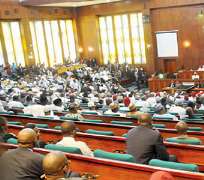 ABUJA, October 27, (THEWILL) - The House of Representatives today mandated its joint committee on Public safety and National Security, Police and Human Rights to investigate the arrest of 28 members of the Action Congress of Nigeria (ACN) by the SSS and Police.
Recall that the security agents were alleged to have intercepted and detained a coaster bus in Lokoja, Kogi State, conveying 28 members of the party from Osun State to Abuja on October 25, 2011, on their way to attend the trial of party leader, Asiwaju Bola Tinubu.
The House resolution emanated from a motion sponsored by Hon. Yusuf Lasun (ACN-Osun) which was unanimously adopted.
Leading the debate, Lasun said that the action of the security agents was disrespectful to the people and government of Osun State.
He noted that a similar incident also occurred on Sept. 27 where an 18- seater bus conveying party supporters from the state were stopped and detained in Lokoja.
According to him, all entreaties made to the security agents to release them were rebuffed.
He maintained that the right to movement of the people was guaranteed under section 41 (1) of the 1999 constitution as amended.
The committee is expected to report back to the House in Two weeks.
In a related development, the House also mandated the Joint committee on Police Affairs and Human Rights to investigate the alleged killing of Mr. Victor Emmanuel by the Police in Bayelsa State.
Recall that Emmanuel was allegedly killed by the Police on Oct. 23, 2011 on his way home from the church after he critised the police for extortion.
The House action was sequel to a motion by Hon. Warman Ogoriba (PDP-Bayelsa) which was adopted by Representatives.
He said that the deceased was brutally killed in the presence of his mother, Mrs. Grace Victor and the corpse taken to the police station.
According to him, the deceased who left the church on the fateful day and on a bike, only complained of extortion by the police.
The House has also mandated the Joint Committee on Niger Delta Ministry, Special Duties, NDDC, Petroleum Resources (upstream) and Environment to investigate the non-inclusion of five local councils in Akwa Ibom State in the membership of oil and gas producing communities.
The councils are: Oron, Okobo, Urue Offong/Uruko, Udung Uko and Mbo.
In same vein, the House has mandated its committee on Petroleum Resources (Downstream) to invite the NNPC to explain the reason behind the delay in the commencement of the proposed Greenfield refinery in Lokoja.