Insider Describes Gaddafi Son's Escape From Town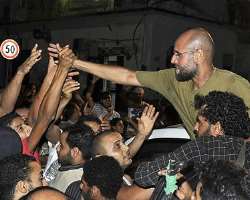 (Repeats story without changes)
* Saif increasingly feared being hit by mortar
* Had been Western-friendly face of regime
* Locals had seen his vehicles pass by
By Maria Golovnina and Taha Zargoun
Muammar Gaddafi's son Saif al-Islam called his father frequently on the telephone and increasingly feared being hit by a mortar bomb as he tried to escape from the town of Bani Walid last week, an officer who had been with him told Reuters.
"He was nervous. He had a Thuraya (satellite phone) and he called his father many times," said al-Senussi Sharif al-Senussi, a lieutenant in Gaddafi's army who was part of Saif's security team in Bani Walid until the city fell on Oct. 17.
"He repeated to us: don't tell anyone where I am. Don't let them spot me. He was afraid of mortars. He seemed confused."
Senussi spoke to Reuters at a makeshift jail inside Bani Walid's airport where he has been kept by forces loyal to Libya's ruling National Transitional Council (NTC) since his capture alongside other pro-Gaddafi troops last week.
Al-Senussi's identity was confirmed by Omar al Mukhtar, commander of anti-Gaddafi forces in northern Bani Walid whose brigade is in charge of the jail and the airport.
Saif al-Islam, a London-educated, fluent English speaker who was long seen as a Western-friendly face of Libya, is the only one of Gaddafi's sons still unaccounted for.
Mukhtar and Senussi, both of whom Reuters interviewed separately in Bani Walid on Tuesday, said Saif al-Islam slipped out of the city around the day it fell to anti-Gaddafi forces.
"When his convoy left Bani Walid it was hit by an air strike but he escaped alive," said Senussi, who is not related to Gaddafi's powerful former security chief, Abdullah al-Senussi.
NTC soldiers allowed Reuters to speak to him privately at the jail and did not listen to the conversation.
An NTC official told Reuters on Monday that Gaddafi's fugitive son was near Libya's borders with Niger and Algeria and was planning to flee the country using a forged passport.
Mukhtar, the commander, said: "I and my unit were chasing him on Oct 19. Then NATO struck his convoy. He was in an armoured vehicle and survived and someone helped him to escape. We searched that area but we lost him there."
INNER CIRCLE
His curly, Gaddafi-style hair sticking out from under a baseball cap reading "Tokyo, Japan", Senussi said he was in charge of communication among various pro-Gaddafi brigades in Bani Walid, and fought until the last day.
He said he saw Saif frequently until he escaped from Bani Walid, and attended many meetings with him.
"We were not friends but we knew each other. We had a professional relationship," said Senussi, who was clad in military fatigues. "We did not really listen carefully to what he said towards the end. We were too busy fighting."
He added that Moussa Ibrahim -- the face of Gaddafi's regime and his chief spokesman -- had also been there until recently but managed to escape separately days before Bani Walid fell.
Bani Walid residents said Saif had been holed up in a safe house in a neighbourhood called al Taboul -- a scattering of mudbrick houses cascading into a rocky valley -- before his final push out of the city last week.
The neighbourhood appeared tense when Reuters visited it on Tuesday.
Unlike central parts of Bani Walid, no NTC flags flew on rooftops and hostile-looking locals made it clear to outsiders appearing on their doorstep that they were not welcome.
"We have not seen him (Saif) around here since the rebels arrived," said one teenager who refused to give his name. "Before we sometimes saw his vehicles pass by. We have seen him around here."
At the jail, describing the chaos within pro-Gaddafi forces as Bani Walid's defences crumbled, Senussi said:
"I fought on the frontline. I was captured the day Bani Walid fell. They (Gaddafi commanders) kept telling us that reinforcements were on their way to Bani Walid, that they were sending more men. But they never did," he said.
Like around 70 other former Gaddafi loyalists kept in the airport jail, he said he now fully endorsed the revolution and wished he had realised it earlier. Asked why he did not try to defect, he fidgeted nervously on his mattress and said:
"I wish I could have joined the rebels earlier. I was in hospital for five months, then military police handcuffed me and brought me here. I was forces to fight."
REUTERS