CONSTITUTION AMENDMENT: GOVS SET TO SEND BILL TO N'ASSEMBLY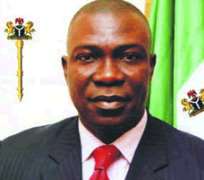 Plans have reached an advanced stage by the Nigeria Governors Forum (NGF) to send a private member bill to the National Assembly (NASS) on Constitution Amendment.
The Chairman of the Forum, Governor Chibuike Amaechi of Rivers State who dropped the hint in Abuja, Monday, ahead of the meeting of the body, however, declined to elaborate. The National Assembly had since set up a joint committee on constitution amendment, headed by the Deputy Senate President, Ike Ekweremadu.
Daily Sun, however, learnt that the proposed bill would embody the position of governors on the thorny issues of true federalism, fiscal federalism, revenue allocation formulae, state police and other vexatious items in the exclusive list in the constitution. He said: 'What we are saying is that we have a position on these issues. We are strengthening the position and then come up with an amendment bill and send to the National Assembly.'
Several governors had in the past called for true federalism, equitable revenue allocation formulae and state police. The calls were championed by the then Alliance for Democracy (AD) governors led by ex-Lagos State governor, Asiwaju Bola Ahmed Tinubu, Before now, governors elected on the platfch in motiomorm of the ruling Peoples Democratic Party (PDP), had maintained a studied indifference to the clamour. This is the first time a united governors front across political parties would launch a bid that would incorporate these issues.
On the need for elected local government chairmen in all the states instead of caretaker or transitional chairmen, the NGF chairman disclosed that the body had been impressing it on governors to embrace the idea of organising local government election, according to the dictates of the constitution. 'In the governors forum, we resolved that in the next two months governors who have not conducted local government elections should do so. Governors are very willing to conduct local government elections. Be rest assured that the governors forum is working with members to conduct elections for local government,' Amaechi explained.
Amaechi paid glowing tributes to ex-governors who he said laid the foundation of progress in most of the states. 'The past governors did very well. We are leveraging on their successes to do what we are doing. We must credit the current governors for improving on what they met on ground.' He further defended his party, the PDP, on democratic best practices saying it had bestowed on the country a sordid democratic culture.
'I can't talk for PDP and other parties but one thing is clear and that is that imposition of candidates is not as rampant today as before. Today, you watched our primaries in Adamawa, what happened?' He expressed worries on the post-tenure harassment of ex-governors, which he observed was without due regards to their performance while in office.
'At this point I'm not speaking as a member of the governors forum.
I am speaking as Amaechi. And we are worried that you finish serving your people, they invite you just to rubbish the ex-governor. Nobody takes into account the services you have rendered. Everybody just believes that so far you were a governor you were stealing public funds.'
He enjoined the Economic and Financial Crimes Commission (EFCC) to focus more on the attainment of 50 percent success level because if they curb corruption within that range 'then they have passed. Even if they stop corruption and there is 50 percent then they have not passed.'