Representatives Want Financial Autonomy For Local Councils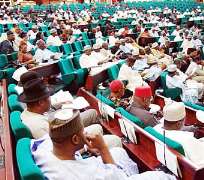 ABUJA, October 26, (THEWILL) - The House of Representatives today commenced deliberations on a Bill for an Act to amend the provisions of Sections 7 and 162 of the 1999 Constitution to provide for independence and financial autonomy of Local Government Councils in Nigeria.
The Bill which seeks to amend the two sections to give local governments independence and financial autonomy passed second reading on the floor and was consequently committed to the chamber's ad-hoc Committee on constitution review for further legislative action.
In his lead, Hon. Uche Ekwunife lamented the level of underdevelopment at the local government level across the country owing to neglect by the various state government.
According to her, the impact of governance has not been felt at the local government in terms of changing the lives of the people because, according to her, funds meant for the local councils are usually withheld by the states.
The lawmaker contended that if the local councils only existed to pay salary, then no responsibility should be ascribed to them.
"If they are just there to pay salary, then what kind of responsibility do we expect from them?'' she asked arguing that the impact of the councils would not be felt by the people at the grass root unless some services were being rendered to them by the councils.
Arguing further, she maintained that until there was a constitutional amendment, the councils would continue to be under the apron strings of the state governors.
She stressed that the local councils in the federation were not functioning effectively as they ought to be because of the fact that they are being strangulated by the states.
"The only way to liberate the people at the grass root is to reposition the administration of the councils to provide essential services to the people", she said.
Chief Whip of the House, Representative Isiaka Bawa [Taraba], in his contribution to the debate noted that 60 per cent of funds belonging to local councils were in the hands of the state governments.
Bawa lamented that "local councils have been reduced to mere departments under the appendages of state governors. More than 60 percent of the money allocated to the local councils is used by the state government. And because of the situation at the local councils, health and other critical areas have been neglected."
Hon. Ganama Kwaga [Adamawa] said that the amendment of the sections dealing with local councils was long overdue.
According to him, "if financial and administrative autonomy was given to the councils, the development would go a long way to impact positively on the lives of the people at the grass roots."
Also contributing, Chairman House Committee on Rules and Business, Hon. Albert Sam-Tsokwa [Taraba], said that it was necessary for the House to make it clear whose duty it was to create local councils.